Textiles & Apparel / Garment
2023-11-30
Successful conclusion of the exclusive Preview Textile Show in Munich: around 250 international suppliers opened the season on 28 and 29 November and presented their latest trends and material developments for the Spring.Summer 25 season from the areas of Fabrics, Additionals, Denim and Sportswear – the first ever time the summer season was rung in under the roof of the Dampfdom at Motorworld Munich. An all-round successful kick-off in the run-up to the MUNICH FABRIC START in January 2024.
...more
Textiles & Apparel / Garment
2023-11-30
Patagonia has released its new STORMSHADOW PARKA, the warmest jacket of their current offerings. The jacket is also the first product in-market to feature new material innovation from the GORE-TEX Brand and Bionic, delivering on the brands' shared values of turning garbage into good.
...more
Textiles & Apparel / Garment
2023-11-30
Today, Champion® Athleticwear, the iconic lifestyle brand born from sport in 1919, announced its newest innovation: Eco Future Reverse Weave with CiCLO® technology, a patented and science-based solution that allows synthetic textiles to behave more like natural fibers when they enter the environment.
...more
Textiles & Apparel / Garment
2023-11-30
On November 21, the United Nations Global Compact (UNGC) organized its Year-end Ceremony of the SDG Innovation Accelerator for Young Professionals, at Integral. The initiative encourages young professionals to create sustainability-related solutions for a better tomorrow.
...more
Textiles & Apparel / Garment
2023-11-29
As is customary for the end of November, the who's who of the sports industry is soon to gather in Munich for ISPO, the trade fair where more than 1,600 exhibitors showcase all the latest innovations and future trends for the sporting world. Sitip will be presenting its fabrics designed for winter outdoor activities: technological textile solutions capable of providing any garment with the necessary qualities to deliver the very highest performance.
...more
Textiles & Apparel / Garment
2023-11-27
Sustainable outdoor apparel brand, Ternua, whose logo is a whale's tail, will present its FW 2024 Trekking line at ISPO. The line includes new items and enhanced fabrics with the best technology and, as always, a focus on sustainable innovation. 90% of its garments are made of Bluesign-certified fabrics, guaranteeing that they meet the highest sustainability and functionality standards and are committed to future generations, health, and safety. 100% of its apparel has PFC-free treatments, meaning it is free of substances harmful to the environment.
...more
Textiles & Apparel / Garment
2023-11-27
ECOSENSORTM, a Japanese fabric producer and a division of Asahi Kasei Advance, is thrilled to announce its participation in the esteemed international technical textile show, ISPO - Munich, where it will unveil three special features. This prestigious event will take place in Munich, bringing together industry professionals and enthusiasts from around the world to explore the latest advancements in performance textiles. The vision that lies behind ECOSENSORTM is bold and ambitious. This ideal concept turns real in a versatile collection of eco – high-tech fabrics that embody new generation values of design, innovation and responsibility.
...more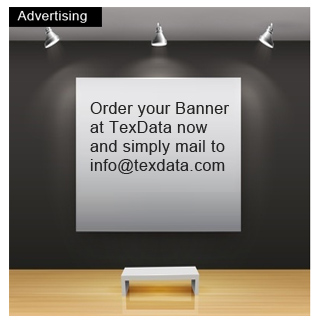 Older News

Textiles & Apparel / Garment
2023-11-23
New location, perfectly scheduled, and focused on quality: for the first time, VIEW will present Spring/Summer collections at the Dampfdom in the Motorworld Munich. On November 28th and 29th, international suppliers will present some 250 collections, showcasing the latest material developments and trends for Spring.Summer 25 at the earliest possible point in time.
...more
Textiles & Apparel / Garment
2023-11-23
On November 17, the Groundbreaking Ceremony of the Kerry-Esquel Logistics Center was successfully held in Gaoming, Foshan of Guangdong Province. The smart logistics center is jointly invested and constructed by Esquel Group and Kerry Logistics Network, aiming to create a green and intelligent logistics supply chain ecosystem, fostering a collaborative environment for smart logistics.
...more
Textiles & Apparel / Garment
2023-11-23
On 14-16 November, the E-Textiles Conference in Ghent gathered industry leaders, and SmartX Community Manager and Textile ETP Project Manager Judith Bosch attended the 2-day event and moderated a panel.
...more
News Archive