Techtextil 2015
2015-04-10
Mahlo at Techtextil 2015 - Preparations in full swing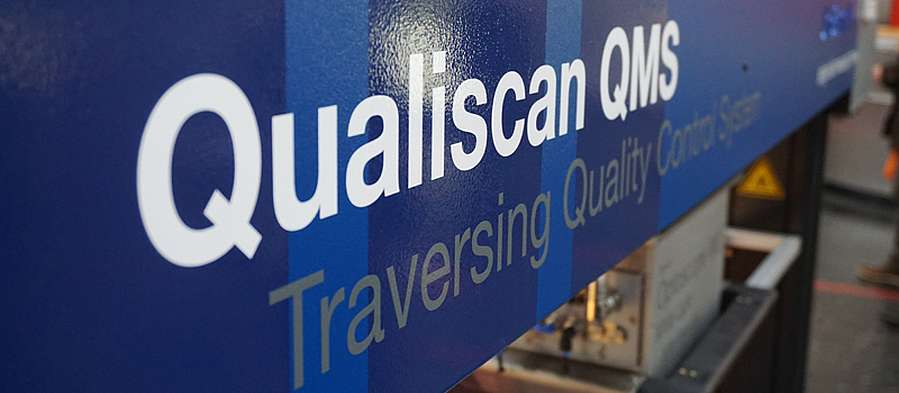 Qualiscan QMS-12 - Traversing quality control system for Technical Textiles
At Techtextil from 4 to 7 May in Frankfurt Mahlo presents in Hall 3.0 at Stand F04 innovations in the areas of process control and automatic straightening systems for technical textiles and related industrial fields.
Innovations on weft straighteners and process control for Technical Textiles
On display at the show is the traversing control system Qualiscan QMS-12. Important process parameters such as thickness, weight, coating thickness or moisture can be measured, recorded and controlled on-line and over the entire width of the product by this system.
Measurement without radiation protection requirements!
The focus lies on the presented sensor Opens internal link in new windowGravimat FMX-T, an X-ray sensor for non-nuclear measurement of basis weight and thickness. By means of this sensor, thin layers, coatings, film, nonwoven and other web can be measured precise and exempt from radiation regulations.
"The market for technical textiles is very exciting, with rapid change and constant innovation and development. You always have to keep the ball rolling in order not to fall behind," said Rainer Mestermann, CEO of Mahlo. "Techtextil serves as an industry barometer for us and offers a cross-section of the current market situation. Hence, we are pleased to be able to present our developments again at Techtextil."
Related News
Latest News Techtextil 2015
More News from Mahlo GmbH + Co. KG

Latest News