Techtextil 2015
2015-06-04
Techtextil 2015 sets new exhibitor and visitor records

Presentation of the Techtextil Innovation Award 2015 (c) 2015 Messe Frankfurt
4.4 percent more exhibitors and 3.9 percent more visitors: Techtextil once again underscored its unrivalled position as the world's leading trade fair for technical textiles and nonwovens. Altogether, it attracted 1,389 exhibitors from 52 countries (2013: 1,330 exhibitors from 48 countries[1]) and around 28,500 trade visitors from 102 nations (2013: 27,418 from 97 nations) to the Fair and Exhibition Centre in Frankfurt am Main from 4 to 7 May 2015.
Significantly improved economic climate in the sector
Innovations in all segments
With the addition of Hall 6.1, the area occupied by the fair rose to 57,000 square metres (2013: 53,100 square metres).
"Techtextil shows the future of the textile industry. Once again, the numerous innovations presented by our exhibitors demonstrate what is possible with technical textiles and nonwovens today, tomorrow and the day after tomorrow. Techtextil confirmed its global character with a jump of seven percent in the number of international trade visitors", said Detlef Braun, Member of the Executive Board of Messe Frankfurt GmbH. All in all, the percentage of guests from outside Germany rose to 59 percent (2013: 57 percent).
Over 5,500 trade visitors to Techtextil came from the concurrent Texprocess. 273 exhibitors (2013: 270 excluding 'Source it') and almost 13,500 international guests (2013: 12,128) came to Frankfurt for the Leading International Trade Fair for Processing Textile and Flexible Materials. Together, the two fairs welcomed 1,662 exhibitors from 54 countries and almost 42,000 trade visitors from 116 nations.
A host of innovations and a positive atmosphere
The focus of Techtextil 2015 was on new applications, technologies and materials. The exhibitors presented a broad spectrum of products including textile-integrated LEDs, electrodes and sensor systems, three-dimensional interlaced structures and woven fabrics, as well as new coating systems for multi-functional finishes. These technologies permit an ever-wider range of applications for textiles in a variety of sectors, including lightweight construction, roof building, automobile interiors and functional apparel and underwear.
Sustainability continues to be an important theme for the sector. Thus, biopolymer-based fibres, textiles for open sea biomass cultivation, durable and recyclable fibres were among the subjects covered by the well-attended lectures of the Techtextil Symposium. Numerous nonwoven innovations were also presented. The exhibitors showed, inter alia, glass-fibre, polyester spun-bonded and heating nonwovens, as well as water-jet bonding technologies for the Clothtech, Geotech, Hometech, Medtech and Mobiltech application areas.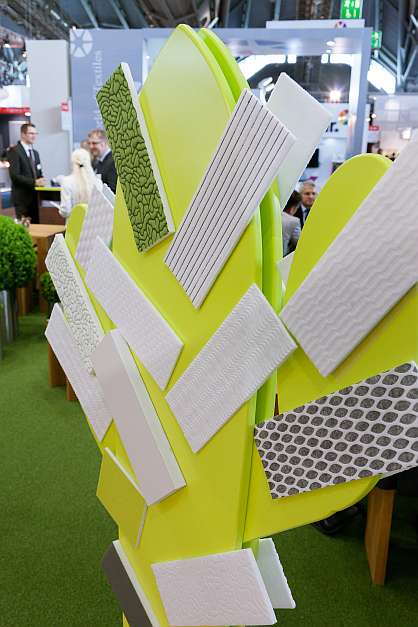 Pic: Nonwovens with large range of different Surfaces presented by Sandler AG
The rating for the fair given by visitors remained on a high level in 2015: 97 percent said Techtextil was good to very good (2013: 96 percent). The current economic situation in the sector was also seen in a very positive light. Thus, 92 percent of all visitors said they consider the current economic situation to be satisfactory to good (2013: 87 percent) whereby the mood among international visitors improved significantly over the previous event. The response of the exhibitor side was equally good. 87 percent of exhibitors said they had achieved their goals for the fair (2013: 90 percent); 94 percent see the economic situation in the sector as being satisfactory to good (2013: 88 percent).
More international exhibitors and visitors, especially from the USA and North and East Europe
15 countries were represented by a joint stand or pavilion at Techtextil 2015 (2013: 13): Belgium, China, France, Great Britain, Italy, Canada, Portugal, Spain, South Korea, Taiwan, the Czech Republic, Turkey and the USA. New were pavilions from Switzerland and Tunisia. On behalf of the British pavilion, Alan Little, Association Director of British Textile Machinery Association: "This was our very first time at Techtextil. In all we were represented by 21 firms. Techtextil is a very rewarding trade fair. We are very satisfied with the way the fair was organised and noted a very high visitor quality."
After Germany, the biggest visitor nations were, in chronological order, Italy, France, Turkey, Great Britain, the Netherlands, USA, Spain, Poland, Switzerland and Belgium. Significantly more visitors came from the USA, Spain, East and North Europe and South Korea. "The industry in America is gaining significant momentum again, as shown not only by the number of visitors but also by the excellent booking situation for Techtextil North America Houston at the beginning of June", said Michael Jänecke, Brand Manager, Technical Textiles & Textile Processing.
The increase in the number of international trade visitors was also noticed by many exhibitors. "Our stand had many visitors. Our colleagues were constantly talking to people. The public here on the stand was very international, not just from Europe, but from Asia and other regions, too. For us Techtextil is a very important platform, to maintain contacts and to keep our ear close to the market", said Ulrike Schlenker of Karl Mayer Textilmaschinenfabrik GmbH (Germany). Dirk Kroll, Head of Internal & Online Communications at ContiTech (Germany), confirmed this saying, "Once again Techtextil has been a success in 2015. For us it is a leading trade fair and platform for communication with our customers. We had a large number of top-flight meetings, a good many of them with new potential customers. The visitors were well informed and asked precise questions about our products."
Exhibitors delighted with the addition of Hall 6.1
Over 140 exhibitors presented their innovations focusing on functional apparel textiles and smart textiles in Hall 6.1, which had been integrated into the fair for the first time this year. In addition to national pavilions from Portugal, South Korea and Tunisia, trade visitors could also see the Techtextil Innovation Award exhibition with eight award-winning developments.
Nike IHM Inc. (USA) was very pleased with its first presentation in Hall 6.1. "This was our first time at Techtextil. It was a very interesting show. The rate of visitors was very good. There was a good exchange of information, and we learned a great deal", said Sales and Marketing Director Mike Barrett.
Dr Jan Zimmermann, Director, Forster Rohner Textile Innovations (Switzerland), also confirmed the numerous new contacts to be made in Hall 6.1: "For us, Techtextil is the most important trade fair to show a varied range of intelligent textile solutions. We were able to hold initial interviews in particular with many potential partners, as well as existing customers, and to launch new developments. Meetings and talks with research institutions also show us the international state of technology and provide an incentive for new joint ventures."
Also to be seen in Hall 6.1 were nine young and innovative German companies on a joint stand sponsored by the Federal Ministry for Economic Affairs and Energy (Bundesministerium für Wirtschaft und Energie – BMWi). Christian Nagler, Technical Director of QMilch Deutschland GmbH, said he was very pleased with the number of visitors: "We had many regular customers on our stand, but a whole lot of new contacts, too. As part of the market launch for our QMilk fibre, we used the fair to select the market. We have founded a large number of partnerships and are thus building up a network."
Innovative Apparel Show back in 2017
Techtextil 2015 was supplemented by a comprehensive programme of events including the 18th Techtextil Symposium, the 13th Techtextil Innovation Award with eight award-winning products and the 13th 'Textile Structures for New Building' competition for students, which also honoured eight projects by young talents. All winning projects were to be seen in special shows in Halls 4.1 and 6.1, which proved to be highly popular among trade visitors.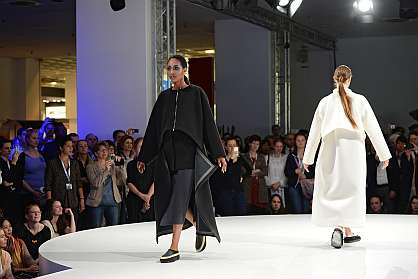 Pic:Innovative Apparel Show
Another magnet for visitors was the first 'Innovative Apparel Show', which attracted around 500 trade visitors per show to the catwalk on all four days of the fair. At the same time, the visitors were invited to vote for their favourite model. The winner was Maria Valdez from Mönchengladbach. Prof Anne Schwarz-Pfeiffer of Hochschule Niederrhein, University of Applied Sciences, explained what makes the winning model so special: "Made of three-dimensional spacer fabrics, the dress represents a perfect symbiosis between interesting functional materials and creative joining technologies. Maria uses ultra-sound welding technology to develop visual and haptic design features for experimental fashion design." It is planned to hold the Innovative Apparel Show again in 2017.
New sequence of days for Techtextil 2017
Techtextil was extended by a day for the first time. The bulk of exhibitors are in favour of a fourth day. One of them, Simon Lee, President of Hysong Corporation (South Korea), said, "Techtextil is one of the most important fairs for us. This time, it was better than two years ago. We have welcomed the facts that it has been extended by one day. In this way we had more time for important meetings with customers."
Thus, Techtextil 2017 will also last four days. At the request of many exhibitors, however, the sequence of days will change to Tuesday to Friday. "We see the new duration of the fair as a pioneering step for this future-oriented sector. After all, technical textiles rank among the few branches of industry with continuously positive economic perspectives. Based on increasing use in branches of industry where fibres used to be unheard of, a double-digit rate of growth is forecast for technical textiles, nonwovens and composites until 2017", said Detlef Braun.
"Together with our expectation to welcome even more exhibitors and visitors to the fair in 2017, the Tuesday to Friday sequence of days offers a number of important advantages: more time for detailed discussions, the opportunity to visit Texprocess and the chance to use the weekend from the Friday", adds Michael Jänecke. Thus, Techtextil 2017 will be held at the Frankfurt Fair and Exhibition Centre in Frankfurt am Main from 9 to 12 May 2017 (Tuesday to Friday).
[1] FKM-certified 
Related News
Latest News Techtextil 2015
More News from

Latest News