Software
2017-06-08
Gerber makes it easy for designers to integrate Adobe® Illustrator® CC17 into YuniquePLM®
The ability for designers to transfer data easily between applications, while creating and managing their businesses, helps them spend more time designing and less time pushing data from system to system. With the integration of the YuniquePLM Design Suite Plugin, they are able to do this seamlessly.
The Design Suite Plugin is now even easier to install and allows updates and new features to be delivered directly through the Adobe store to their users. YuniquePLM, the industry-leading fashion product lifecycle management software, is the only large-scale global fashion PLM system that allows their customers effortless installation and automatic updates through Adobe's Add-Ons Marketplace and keeps designers doing what they love the most – designing new garments.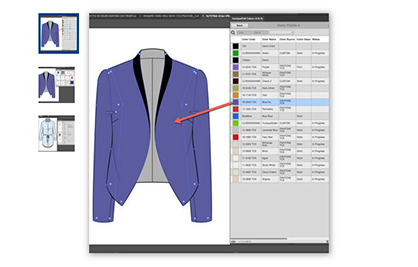 Pic: YuniquePLM Design Suite
"We strive to help our customers work more efficiently and the addition of the Design Suite Plugin is another step in that strategy," said Clayton Parker, PLM product manager at Gerber Technology. "By putting the power of PLM in the designers hands, we streamline the process of delivering new products to market."

Key features of the Design Suite Plugin include:

Color Plugin – designers can create new and access existing color palettes, including PANTONE® libraries, from YuniquePLM's color folder.

Image Plugin – users can access all Adobe Illustrator digital artwork, sketches, graphics, inspirational boards, detail sheets and CADs in YuniquePLM.

Style Plugin – designers can create new styles from sketches in Adobe Illustrator and all updates can be seen instantly in YuniquePLM.

The YuniquePLM product lifecycle management software serves as a central repository of critical data, andeliminates problems companies often face when using multiple excel spreadsheets or tracking documents to communicate throughout the stages of product development and management. YuniquePLM creates a single version of the truth, connecting a company's creative process with their supply chain and production processes.

Related News
More News from Gerber Technology

Latest News