Weaving
2023-03-16
Major investments in climate neutrality and machinery: Lindauer DORNIER gears up for a successful future

Group photo with guests from politics and business during the factory visit of Lindauer DORNIER GmbH in Esseratsweiler © 2023 Lindauer DORNIER
In order to make itself fit for the future and to take further steps towards climate neutrality, Lindauer DORNIER GmbH intends to invest more than 8 million euros at its Lindau and Esseratsweiler sites.
The money will go into photovoltaic systems and the modernisation of the machinery. For the family-owned company, this amount, financed entirely from its own resources, is the largest investment project in recent decades. When visiting the plant in Esseratsweiler, Lindau's Mayor Dr. Claudia Alfons, who is also chairwoman of the supervisory board of the public utility company Stadtwerke Lindau, and Tobias Walch, mayor of the municipality of Achberg, both expressed their delight at DORNIER's solar power, which will in future also supply the public power grid via Stadtwerke Lindau.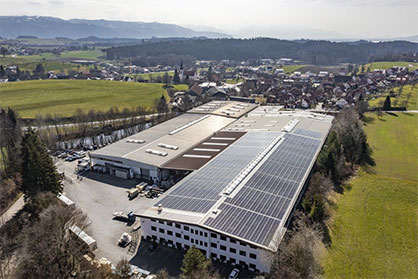 More sustainable with solar power: The new photovoltaic plant of Lindauer DORNIER will in future produce "green" electricity for its own consumption and for the public grid in the Lindau region © 2023 Lindauer DORNIER
"This is the largest investment in our recent company history", Franz-Peter Matheis, Commercial Director at Lindauer DORNIER, emphasised the dimensions of the current investment program. The funds amounting to more than 8 million euros will be invested mainly in photovoltaic systems for the company's own power supply, a nitrogen production plant, the modernisation of the machinery and the optimization of logistics. "With these investments, we aim to navigate Lindauer DORNIER safely through the enormous challenges of our time," says Matheis. These include not only climate change, but also the shortage of skilled workers and young talent, as well as the requirements of digitalisation. The fact that the entire amount is financed from the company's own resources has a long tradition in the family business: Peter Dornier, the company's founder, already attached importance to financing even larger investments from his own resources.

Climate-neutral with self-sufficient power from photovoltaics

Measures to achieve greater climate neutrality are one of the focal points of investment. In order to be able to supply itself with self-generated solar power in the future, DORNIER put into operation a photovoltaic system on the roof of the production hall in Esseratsweiler at the end of last year. Approximately 1,900 solar modules on an area of 4,000 m² (the equivalent of about ten basketball courts) will supply about 750,000 kWh p.a. of electricity from now on.

For comparison: The average electricity consumption of a four-person household is about 4,000 kWh, which means that this output would be sufficient to supply around 185 four-person households with electricity for a whole year. It would thus be theoretically possible to cover the entire power consumption of the district of Esseratsweiler with its approx. 740 inhabitants with electricity from the DORNIER plant.

According to Stadtwerke Lindau, this makes the company's solar plant one of the largest in the region. DORNIER will use about two thirds of the solar power generated itself, such as for lighting offices and production halls or to weld and bend sheet metal parts for its machines and plants. To ensure that any unused solar power, i.e. the electricity generated at weekends, is not lost, it is fed into the public grid via the public utility company.

Mayor visits solar plant

This was particularly welcomed by Mayor Dr. Claudia Alfons during her visit to the plant in Esseratsweiler on 6 March 2023: "I am very pleased that Lindauer DORNIER is making an active contribution to more climate protection in the region with its new photovoltaic plant. Because part of the solar electricity generated here is fed into the public grid via Stadtwerke Lindau, our citizens in the Lindau region also benefit from this 'green' electricity."

As a next step, the machine and plant manufacturer also wants to generate electricity from photovoltaics at its main plant in Lindau. The challenge here: Some areas of the business premises are subject to the protection of historical monuments. In addition, DORNIER traditionally cultivates a philosophy of living, green factory premises. Thus, there are many decades-old trees between the production halls in Lindau. Nevertheless, plans for the installation of further solar plants on the rooftops are also in full swing here. CEO Peter D. Dornier: "In the long term, we want to secure our energy needs entirely from renewables and reduce our "CO2 footprint" to a minimum."

Producing sustainable products more energy-efficiently

A considerable part of the investment sum flows into machinery, EDP and logistics. One of the key questions is: How can processes be technologically optimized so that sustainable end products are produced even more economically and energy-efficiently? DORNIER customers use the company's weaving machines and film production lines to manufacture products that contribute to protecting people and the environment as well as helping to bring about the energy turnaround. Thus, DORNIER plants not only supply film for hygienic packaging, but also for solar modules as well as for batteries and capacitors in the drive train of electric cars. DORNIER weaving machines produce fabrics that protect against injuries, help to clean exhaust gases and produce hydrogen in electrolysis plants for a future "hydrogen economy".

As part of the sustainability investments, a new nitrogen plant has already been installed at the Esseratsweiler factory. It has been successfully in operation since the end of November and will supply DORNIER with self-produced nitrogen in future. This is required for flame and laser cutting of sheet metal parts and previously had to be purchased at high cost from external sources. Costs that will be eliminated in the future: "Because we also operate the nitrogen plant with our own solar power, we will in future obtain our nitrogen in a CO2-neutral way right here on site", explains Franz-Peter Matheis. As a result, CO2-intensive lorry journeys, which were necessary several times a week to transport the nitrogen in large tanks to DORNIER, will belong to the past. In the coming years, the family-owned company with an annual turnover of 370 million euros (2022) will continue to invest massively in the areas of sustainability, energy efficiency and digital transformation. Tobias Walch, mayor of Achberg, is particularly pleased about this. "We are proud that Lindauer DORNIER will continue to contribute to a positive and stable budget for the community of Achberg also in future."
Related News
More News from Lindauer DORNIER GmbH

Latest News