Techtextil 2022
2022-07-21
Techtextil is back successfully
After a two-year break due to the pandemic, a real top-class event was on the trade fair calendar from June 21-24: Techtexil in Frankfurt, probably the most important trade fair for technical textiles worldwide. The high number of visitors enabled Mahlo to present its products and solutions for process control to a wide audience.
Accordingly, Sales Director Thomas Höpfl was satisfied: "Of course, we still miss visitors from the Asian region. But we are pleased that we were able to hold many intensive discussions at the booth, both with existing customers and with new interested parties." It was noticeable that many were happy about the opportunity to communicate face-to-face again.
The Mahlo systems offered plenty to talk about for manufacturers of technical textiles. Because in contrast to mass-produced goods, there is only a very fine line between "pass" and "fail" with technical textiles. Accordingly, there are hardly any tolerances - the specified limit values must be meticulously adhered to. This is where the experience of Mahlo's control and measurement technology comes into play.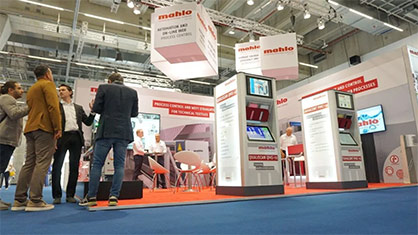 © 2022 Mahlo
Among other things, visitors were able to examine the Famacont PMC-15 thread density measurement system in live operation. The system uses sensors to measure the thread or stitch density on the running web and compares it with the target value stored in the recipe data management system.

Weft-straight fabric is of course also an important topic for technical textiles. Therefore, the renowned straightening technology could not be missing at the Mahlo booth. "Thanks to the different variants of our automatic straightening system, we cover almost all textile applications, from heavyweights such as carpets to fine straightening," said Höpfl.

With the Qualiscan QMS, Mahlo also offers a system for online monitoring of basis weight with beta or X-ray technology, thickness with laser and light shading, moisture with infrared or microwave, and air permeability.
For all sensors, high measurement accuracy is crucial for an optimal measurement result. "The measurement data is the basis for automatic control of the process and thus the prerequisite for a perfect product with tight tolerance limits."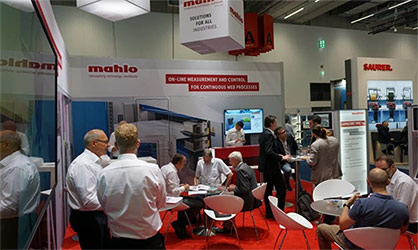 © 2022 Mahlo
With its solutions, Mahlo hits the nerve of its customers exactly: High-quality goods through more efficient production. Always in view is also sustainability in the manufacturing process - a major topic at this year's Techtextil!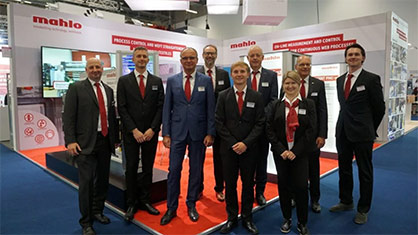 © 2022 Mahlo
Related News
More News from Mahlo GmbH + Co. KG

Latest News