ITMA-Asia + CITME-2014
2014-05-09
Santex Group at ITMA Asia with their 4 major brands
At ITMA Asia + CITME 2014 the Swiss and Italian Santex (Hall E7 / Booth E14) will show the Santex ESC Chamber during the exhibition. The Santex ESC, Energy Saving Chamber stands for higher productivity and as a result a better ROY. Santex focused on the finishing of quality knitted fabrics and comprehensive systems of individual machines for pre-treatment of tubular and open-width knitted fabrics.
The Santex Group will particulary inform about the following products:
Santex
Santashrink – for tensionless shrinking and relax drying of tubular and open width knitted fabrics.  Santacompact; width control and equalization of open-width knitted fabric through distortion-free, controlled pinning management. NOVA - Dry to dry continuous water-free cleaning ranges. A solution for scouring of finished fabrics to remove unfixed dye-stuff to eliminate residues.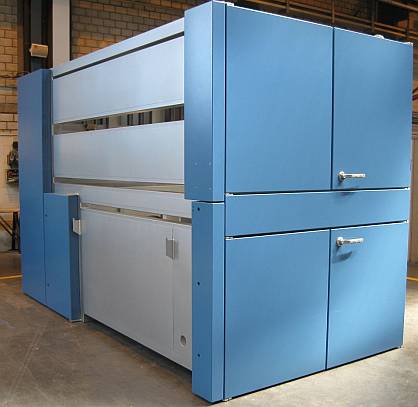 Pic: The Santex ESC Chamber (c) 2014 Santex
SperottoRimar
Specialized in finishing of machinery for wool & wool like fabrics (cotton, silk, Viscose and synthetic fabrics). Decofast; continuous decatizing machine; under steam pressure to achieve outstanding dimensional stability on worsted, woollens and warp knitted fabrics.
Cavitec
Hotmelt coating and laminating with Hotmelt adhesives. Cavitec combines the Hotmelt machine with laminating calender, low tension drive and web guiding systems. Final end products are for clothing, protective and sports textiles.
Prepreg plants for the impregnation of various types of glass and carbon fiber materials for structural composites for the end use in aircraft, space automotive industry.
Nonwovens materials are dried or bonded together in the Santatherm oven, using the variable nozzle and fan systems; the required thickness and weight can be adjusted.
Isotex
Experts for complete lines for coating, resin finishing, impregnation & laminating plants wet and dry application. Embossing machines for thermoplastic films, coated & coagulated fabrics and rotogravure printing presses for calendered PVC films, synthetic leather, tarpaulins, vinyl flooring.
Related News
Latest News ITMA-Asia + CITME-2014
More News from Santex Rimar Group

Latest News