Composites
2015-03-16
ITM awarded jointly with other EU project partners with the JEC Innovation Award Europe 2015
At JEC Europe 2015 which took place from 10 to 12th March in Paris and is one of the world's leading trade fairs for the composites industry, the Institute of Textile Machinery and High Performance Material Technology (ITM) at the TU Dresden and its EU project partners have been awarded with the JEC Innovation Award Europe 2015.
Prizes were awarded to the outstanding research results of the EU project "3DLightTrans: Large scale manufacturing technology for high performance lightweight 3D multifunctional composites".The goal of the 3D LightTrans project is to develop and implement a highly flexible manufacturing chain for reproducible production of fiber-reinforced plastic (FRP) in high quality.
Fibre-reinforced plastic composites are characterized by their excellent features. Despite their light weight FRP have very good stiffness and strength properties. The promising potential of this material group is currently rarely used in medium and large series due to the lack of appropriate technologies for quality-oriented and cost-effective production. The 3D LightTrans process chain should enable the cost-effective production of qualifying components, for particular of structural components, in all market segments. To achieve this goal, a total of 18 European research institutions and industry partners are working on the development and testing of innovative processes along the entire process chain.
Within the EU project reinforcing structures and demonstrator components are designed and manufactured at ITM. It is desired to adapt the component to the material. Multi-ply fabric hybrid yarns which have a thermoplastic component in addition to the reinforcing fibers, are developed and then further processed in Thermopress methods. This method can achieve very short cycle times in component manufacturing. The high demands of process and material development can be met only through close interdisciplinary cooperation between the project Partners.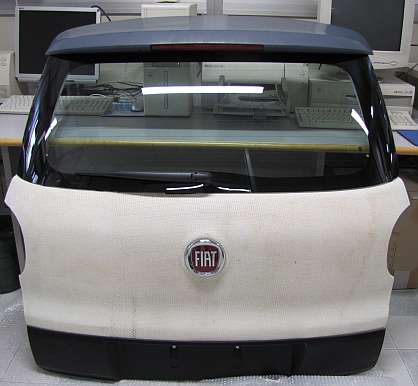 Pic: Demonstartor tailgate (c) 2015 ITM
Related News
More News from Institute of Textile Machinery and High Performance Material Technology (ITM)

Latest News