Yarn & Fiber
2023-03-29
Beaulieu International Group and Arenal announce partnership to drive growth of padel in Belgium and Netherlands

Joa?o Moura, Portuguese professional padel player. (Photo: © Beaulieu International Group)
Padel pioneers Arenal and Artificial Grass specialists B.I.G. are pleased to announce the two companies have signed a long-term partnership to drive the growth of padel in the Belgian and Dutch markets. Over the last two years, padel has been growing exponentially, and as two market leaders, B.I.G. and Arenal are looking to further develop the sport. Arenal is a leading operator of padel courts in Belgium, looking to expand under the leadership of Marc Coucke, while B.I.G. is today a leading provider for artificial grass surfaces for padel, ready to market its products under its Act Sports brand.
Beaulieu International Group (B.I.G.) sets new standards in playing experience through its Act Sports brand for artificial grass
The agreement between B.I.G.'s Act Sports and Arenal illustrates the companies' commitment to serving the padel community. Today 18 million people play padel worldwide, and in Spain, Portugal and Sweden, there are now more active padel players than tennis players. The same growth is manifesting itself in Belgium and the Netherlands, where the number padel courts installed in the last 2 years has almost doubled.

"Our goal is simple: we want to create padel systems that add to the game with excellent ball bounce and speed, and on which players can excel on every level", says Friso Van den Berg Commercial Director of Act Sports. "As part of the partnership with Arenal we will not only supply artificial grass for their Padel facilities, but we will also team up to develop and test new systems together."

Arenal Business Development Manager Tom De Sutter continues: "We are delighted to team up with a market leader. Our new facility in Kerkrade is the first in an ambitious expansion plan, and with Act Sports we find a partner who, like us, fully supports sustainability, innovation, and player experience."

For the recently opened 8-court Kerkrade facility, Arenal installed Act Sports' new Score Blue padel grass court. With a brand new textured yarn developed exclusively for padel, this product offers the perfect balance in terms of ball bounce, player comfort and game consistency. It can be used both for indoor and outdoor courts, and provides a high-quality, long-life system with low maintenance requirements.

Pol Deturck, CEO of B.I.G., wraps it up: "Millions of players enjoy our solutions every day, while playing on one of the hundreds of soccer fields or padel courts installed throughout Europe. With Arenal we find an ideal partner to support our ambitions. They are the leaders in their field just like us. Together with Arenal it is our mission to help padel grow into a mainstream sport in Belgium and neighboring countries, and we are focused on developing the right technologies that will enable athletes to achieve their personal best."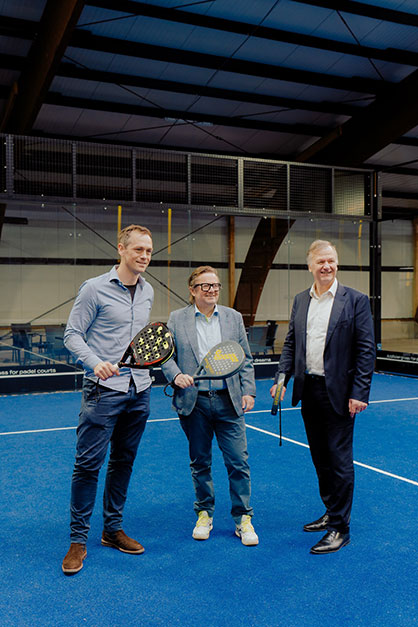 From left to right: Tom De Sutter, Business Development Manager Arenal, Marc Coucke, shareholder Arenal and Pol Deturck, CEO B.I.G. (Photo: © Beaulieu International Group)
Related News
More News from Beaulieu International Group

Latest News