Yarn & Fiber
2022-04-28
SABIC at Boao Forum for Asia 2022: "Re-Globalize" the world economy through the spirit of collaboration
SABIC, one of the world's leading diversified chemical companies, called for the world economy to "re globalize" for the sake of sustainable development at the 2022 Annual Conference of the Boao Forum for Asia (BFA). Extending its connection to the BFA for the 14th consecutive year (the last three of which were as an honorary strategic partner), SABIC once gain summoned the spirit of collaboration to address the profound challenges confronting the world.
Following Chinese President Xi Jinping's video keynote speech at the event's opening plenary, Yousef Al-Benyan, Vice Chairman and CEO of SABIC and member of the BFA Board of Directors, delivered a keynote speech of his own via video. He then met with Chinese Vice-Premier Han Zheng and other BFA board members and strategic partners to engage in a high-level small group discussion.

In his speech, Al-Benyan represented the consensus view of the international business community: "The best way to create long-term value and spread well-being throughout the world is to respond to climate change under the umbrella of sustainable development." As an example, he specifically mentioned the host country's approach. "China's 14th Five-Year Plan and 2035 Long-Range Objectives not only lay a solid foundation for sustainable development but also specify '30-60' decarbonization goals, providing a framework within SABIC which can strengthen its in-country partnerships."

Al-Benyan conceded that implementing the consensus view would not be easy or quick. "Energy-based value chains require a lot of time and effort to transform. Together, public and private sectors must 're-globalize' the world economy to establish not only alternative energy sources but also new markets and diversified supply chains." But he added, "I'm convinced that, through the spirit of collaboration, we can overcome the biggest of challenges. It is what enabled us to get through the worst of the COVID pandemic. And it is the basis on which to build a cohesive, inclusive and prosperous world."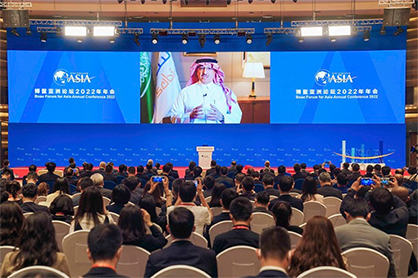 © 2022 Sabic
As shown by its long-standing participation in BFA, SABIC has been a strong advocate of increasing cross-regional collaboration to address present and future global challenges. It also believes that the chemical industry can serve as an anchor for cooperation across value chains, meeting emerging market needs and driving a sustainable transformation. These endeavors were vividly demonstrated in SABIC's recent pursuit of investment opportunities in China, such as its Tianjin joint venture, which just completed a successful start-up of a polycarbonate plant, and its recently established joint venture in Fujian for a proposed world-class petrochemical complex.
Related News
More News from SABIC

Latest News