Yarn & Fiber
2023-03-23
SABIC announces appointment of Mr. Abdulrahman Al-Fageeh as Chief Executive Officer and Executive Member of the Board
The Board of Directors of SABIC, a global leader in the chemicals industry, confirmed the appointment of Mr. Abdulrahman Al-Fageeh as Chief Executive Officer and Executive Member of the Board, effective March 21, 2023. Al-Fageeh has served as acting CEO of SABIC since September 28, 2022, succeeding H.E. Mr Yousef Al-Benyan who was appointed Minister of Education for the Kingdom of Saudi Arabia by Royal Decree.
"Abdulrahman Al-Fageeh is a proven leader, demonstrated during his long tenure at SABIC. He is well-positioned to continue driving sustainable growth for our customers, employees, shareholders and communities," said Khalid Hashim Al-Dabbagh, Chairman of SABIC's Board of Directors. "The future remains bright for SABIC, the Kingdom of Saudi Arabia, and the chemicals industry as we continue to innovate and expand in order to meet the needs of our ever-changing world. The Board of Directors is confident in SABIC's ability to continue to realize its vision to be the preferred world leader in chemicals."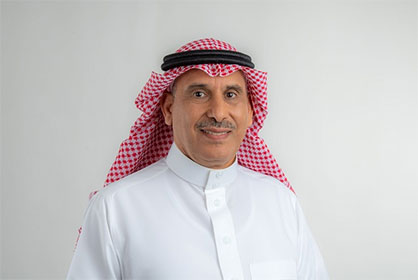 Mr. Abdulrahman Al-Fageeh © 2023 Sabic
Al-Fageeh joined SABIC more than 35 years ago and has held several key leadership posts within the company. In addition to his role as acting CEO, Al-Fageeh led SABIC's largest business as Executive Vice President, Petrochemicals since its creation in October of 2016.

"I am grateful to the SABIC Board for their confidence in appointing me as CEO and a board member of SABIC," said Abdulrahman Al-Fageeh. "For over 40 years, SABIC has been driven by a burning ambition to define the future of the dynamic chemicals market. Today, as an industry leader, we have a unique responsibility and opportunity to improve the lives of those around the world by enabling a more sustainable and carbon neutral future. I look forward to continue leading our team as we seek to find sustainable solutions to some of the toughest challenges our world and customers face."

Additional positions Al-Fageeh has held at SABIC include Executive Vice President for Polymers; Executive Vice President, Performance Chemicals; Vice President, Polyethylene Business and President of YANSAB. He has also chaired SABIC affiliates Petrokemya, Sadaf, Ibn Sina, Shrouq, Yanpet, Kemya, SAMAC, SABIC SK Nexlene Company, Gulf Coast Growth Ventures and SABIC Fujian. He has also chaired the respected World Plastics Council (WPC), an NGO, working efficiently to promote the ethic of sustainability and the responsible use of plastics and currently he is the Chairman of SABIC Agri-Nutrients Company and the Nusaned Investment Company. He is also the Chairman of the Gulf Petrochemicals and Chemicals Association and the chairman of Petrochemical Manufacturers Committee, Mr. Al-Fageeh is also on the Board of the Royal Commission for Jubail and Yanbu and Saudi General Authority of Foreign Trade (GAFT).
Related News
More News from SABIC

Latest News