Recycling
2023-09-21
Circle Economy Foundation and Regeneration.VC partner to supercharge Dutch climate innovation
Circle Economy Foundation, an Amsterdam-based impact organisation, and Regeneration.VC, an early-stage venture fund, are launching a strategic partnership. This impact-oriented collaboration aims to uncover the most impactful Dutch Consumer ClimateTech businesses and scale them globally.
Global material consumption has tripled in the last 50 years, and the related extraction, handling and consumption of these materials generates 70% of global greenhouse gas emissions. Circle Economy Foundation's Global Circularity Gap Report points out that only 7.2% of these resources are getting reused, creating a systems change opportunity to greatly improve circularity and lower resource extraction.
The Netherlands has established itself as one of the world's leading circular innovation hubs, drawing support and engagement from policymakers, corporations, top-tier investors and world-class entrepreneurs. Circle Economy Foundation and Regeneration.VC are partnering to accelerate Dutch circular innovations ready for the global stage that can play a pivotal role in tackling the climate emergency. The initial investment strategy will source best-of-class early-stage Consumer ClimateTech businesses to build a concentrated Dutch portfolio.

'Today, many large corporations are investing in reducing or offsetting their scope-3 emissions. We believe this funding is better used to fuel climate innovations in the supply chain. Over 50% of these emissions can be addressed with circular economy solutions. In the Circle Economy—Regeneration.VC partnership, we intend to do just that—invest in start-ups that can help corporations address the root cause of their scope-3 emissions.' says Martijn Lopes Cardozo, CEO at Circle Economy Foundation.

Within the partnership, Circle Economy Foundation will provide state-of-the-art circularity impact measurement across the portfolio. In addition, the foundation will utilise its unique position within the Netherlands to locate and scale the most promising enterprises. Regeneration.VC will provide due diligence, go-to-market strategy and manage the investment process, while its advisory team of top materials, reuse and consumer experts will further accelerate portfolio opportunities globally.

'In many ways, the Netherlands is leading the world in circularity. From before our inception, Circle Economy Foundation has inspired us to think more quantitatively and thoughtfully about the material flows of companies, cities and countries. It's incredibly exciting for our team to actively collaborate to uncover the best technologies addressing consumer supply chain emissions in the epicentre of circularity. With upcoming EU regulations, there is tremendous innovation and investment happening in the region, and we look forward to bringing it to the US and beyond,' according to Michael Smith, Regeneration.VC General Partner.

'At Circle Economy Foundation, we are devoted to accomplishing real impact on the ground. As a circular entrepreneur, I believe the right partner can be a game-changer in these efforts. Together with Regeneration.VC, we are well-poised to empower entrepreneurs to address the climate challenge,' adds Martijn Lopes Cardozo.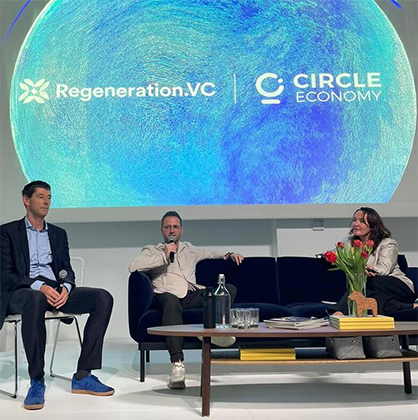 © 2023 Circle Economy
Related News
More News from TEXDATA International

Latest News