Other suppliers
2022-07-20
James Heal celebrates 150 years with week-long event

Pictured from left to right Declan Tierney, PPT Group Sales Director, John Page, PPT Group MD with Neil Pryke, PPT Group UK MD © 2022 James Heal
A year of celebration continued at James Heal last week as a series of events were held to mark their 150th anniversary, with the attendance of sales partners from almost every continent making it a truly international occasion.
Established in 1872, Halifax-based James Heal design and manufacture textile testing instruments, which are sold, directly from the UK, Germany and USA, and through sales channel partners around the world. The brand became part of the wider PPT Group in 2014, with sister brands each focusing on testing many aspects of materials and products.

Sales channel partners (SCPs) began arriving early in the week along with staff from their German and US offices, visiting the factory to meet the team, see the textile testing instruments and test materials being manufactured, and to undergo training from James Heal's Technical Specialists.

The visitors participated in a full day conference at Cedar Court Hotel in Huddersfield on Thursday, where two new James Heal instruments AirPro and HydroView were demonstrated for testing air permeability and hydrostatic head, plus sessions on new and existing product development took place.

The week culminated in a party attended by members of staff, partners, customers and representatives of industry associations held fittingly at The Venue at Bowers Mill, a former woollen mill in nearby Barkisland. After dinner PPT Group UK MD, Neil Pryke gave a thought-provoking speech linking the 150 year history of James Heal with significant world events and inventions such as the lightbulb and telephone, both of which used textiles in their construction, coming after the company was established, alongside industry advances such as the invention of Lycra, and ending with the future possibilities presented by smart textiles.

Concluding the more formal part of the evening, six members of staff including Neil were recognised for their long service, all having worked at James Heal for over 25 years, between them totalling 150 years. Four other awards were presented to members of staff voted for by their peers for; Character, Leadership, being a Values Champion and an Unsung Hero. The party went into full swing with SouthWest Band entertaining guests until late in the evening.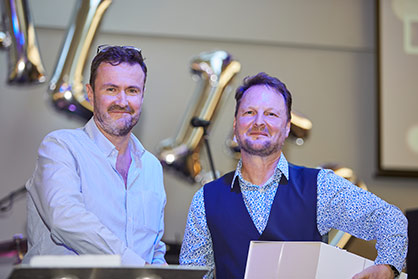 Neil Pryke receiving his long service award from John Page, PPT Group MD © 2022 James Heal
Neil Pryke said, "It has been a wonderful week of collaboration and further building relationships with our team and global partners, many of whom have been with us for decades, all joining together to celebrate the very special achievement and longevity of James Heal."
Related News
Latest News Other suppliers
More News from James Heal

Latest News