Other suppliers
2021-11-03
James Heal innovates in air permeability testing with new AirPro instrument

AirPro TestWise Software © 2021 James Heal
James Heal announced today the launch of its new AirPro air permeability tester. The latest addition to the manufacturer's 'Performance Testing' range, claims to be an 'evolution' and 'innovative alternative' to air permeability testers currently on the market.
Manufacturer of precision textile testing instruments, James Heal, has developed an innovative solution to air permeability testing, the AirPro. Used to measure the resistance of the flow of air through products including performance apparel, medical textiles, PPE, infant products such as bedding, nonwovens, geotextiles and more.

"Air permeability has always been a popular area of testing", explains James Heal's Head of Technical, Peter Goodwin. "It's important for a variety of reasons in performance testing, for the indication of thermal loss which can impact wearer comfort and safety, particularly in garments designed to be windproof, medical textiles such as face masks and wound dressings, and infant bedding - all where breathability is a key measure of performance."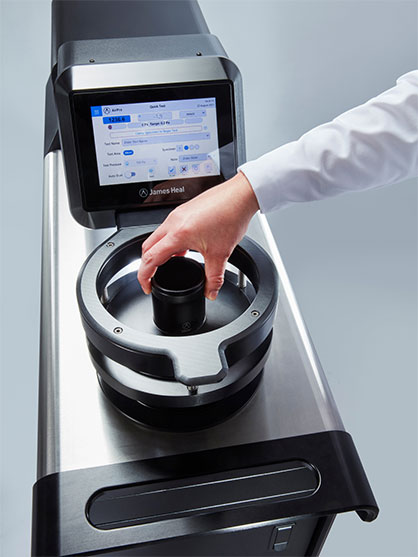 AirPro Quick Change Heads © 2021 James Heal
The testing instrument manufacturer explains that their new AirPro machine is a natural addition to their growing performance testing range, a suite of instruments designed specifically for testing technical and performance fabrics.

A key feature of the instrument is the easy to use TestWise software, a proprietary system developed in-house by James Heal, says Goodwin. "TestWise makes testing extremely simple, and instrument usability is a key part of our product development process with all of our products."

With TestWise software, operators can select from a suite of pre-loaded standards, and the software recommends which test heads are required for testing to each standard. There are a number of clever features, from the software automatically warning the operator of any errors, such as the wrong test heads; to the ability to create your own standards, which makes the instrument useful as a research and development tool in addition to day-to-day quality assurance testing.

"Air permeability is an important part of the R&D process," explains Goodwin. "Outside of traditional apparel textiles, a variety of different sectors and applications are looking to innovate with new, novel materials and test marketing claims - particularly applicable to geo-textiles and performance sports equipment such as boat sails and tents.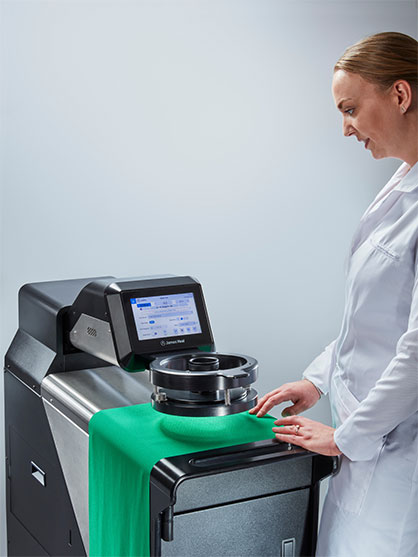 AirPro With Operator © 2021 James Heal
The key features benefits of AirPro include:

- Start testing straight away with easy-to-use TestWise software: preloaded standards and a 'quick test' function, full flexibility to create new standards, with a comprehensive reporting and export option

- Large illuminated test bed: accommodates large samples and suitable for testing a range of materials and finished garments

- Supplied with a range of different 'quick change' test heads depending on application and standard, ranging from 5 cm2 to 100 cm2, with many sizes in between.

- Useful integrated storage drawer to keep the test area organised and tidy

- Wheel-based for easy movement around the laboratory or factory floor

- Quality components that are easy and cost-effective to maintain and replace

AirPro Full Instrument © 2021 James Heal
"There are indeed alternative and well-established instruments on the market which offer the ability to conduct standards-based air permeability tests. What differentiates James Heal's AirPro is that there is no requirement for compressed air. This makes changing of test heads efficient, as there is no requirement to disconnect the air supply or change air pressure during the testing procedure, something which is commonly seen in alternative air permeability testers. This takes up valuable testing time. James Heal's focus is to make testing simple, fast and intuitive; for greater throughput, and accurate, consistent and reliable results", concludes Goodwin.

Related News
Latest News Other suppliers
More News from James Heal

Latest News