ITMA 2015
2015-12-04
Italian Textile Technology Awards go to students from Ethiopia, India, Russia and Vietnam
The winners of the Italian Textile Technology Awards and Raffaella Carabelli, President of ACIMIT (c) 2015 ACIMIT
The latest edition of the Italian Textile Technology Awards was held as part of the promotional activities linked to ITMA Milan 2015 (12-19 November 2015).
With the aim of promoting knowledge and awareness relating to textile machinery technologies and manufacturing, as well nurturing links between training initiatives and Italy's textile machinery industry, ACIMIT the Association of Italian Textile Machinery Manufacturers and the Italian Trade Agency awarded a total of 10 prizes for research in the field of textile production and textile machinery.
Raffaella Carabelli, President of ACIMIT was on hand to personally give out the awards to the winning students, thanking all of the professors who assisted in the research projects.
The awards consisted of a trip to Italy, with a visit to ITMA 2015, and the winning students also received a monetary prize. The awards ceremony took place during a meeting with ACIMIT's member companies on Wednesday 18 November, within the trade fair's activities.
Raffaella Carabelli, President of ACIMIT: "The 2015 Italian Textile Technology Awards confirm our Association's determination to make a vital investment in promoting the future of operators in the textile sector."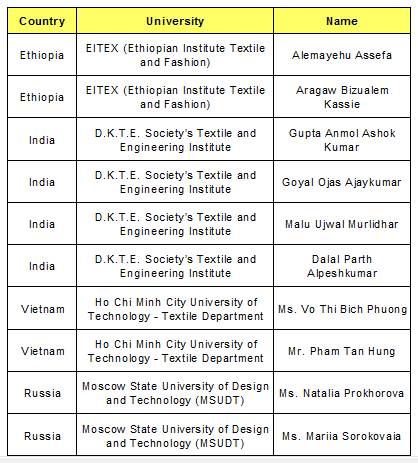 Country, University, name of winning students
Related News
More News from Associazione Costruttori Italiani di Macchinario per l Industria Tessile (ACIMIT)

Latest News