Digital Printing
2015-12-17
Showgoers applaud innovations from EFI Reggiani at ITMA 2015 in Milan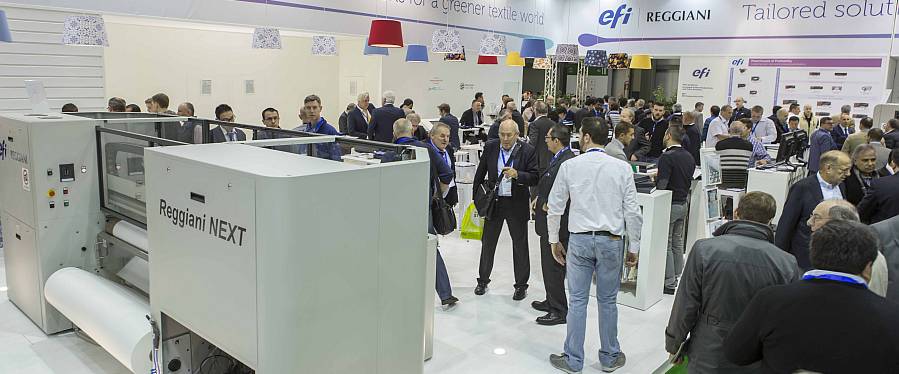 The EFI™ Reggiani booth at ITMA was always crowded by visitors (c) 2015 EFI™ Reggiani
EFI™ Reggiani exceeded all expectations for sales and leads at ITMA 2015 as visitors gathered to see the industry's most-complete offering for the entire textile process – from yarn treatment to fabric printing and finishing – with a range of traditional and digital textile printers, pre- and post-treatment machines, sustainable, water-based inks and production workflow technologies.
EFI Reggiani witnessed large crowds of visitors, and the weeklong exhibition exceeded expectations in terms of completed sales and qualified leads. Customers purchasing at the show came to the EFI Reggiani stand seeking advanced technological innovation and reliability, and chose EFI Reggiani based on its highly favourable mix of price, performance and available features, backed by Reggiani's 60+ year history of successful innovation in the textile space.
SCR purchases EFI Reggiani ReNOIR TOP off the show floor
One such purchaser, Federico Curti, proprietor of Stamperia di Cassina Rizzardi S.p.A., came to ITMA 2015 with the intention of upgrading his company's production capabilities. He purchased the 1.8m-wide, 32-head EFI Reggiani ReNOIR TOP inkjet printer on display in the EFI Reggiani stand. SCR's new printer features exceptional quality and versatility with one of the most robust inkjet arrays in the market.
"We bought the EFI Reggiani ReNOIR TOP machine to strengthen the capacity of our digital textile printing department, and because we are so satisfied with the good operation and the quality of the two 16-head Reggiani machines we purchased last year," Curti said. The printer is being installed in SCR's facility about 40 km north of Milan.
In addition to the TOP printer, the EFI Reggiani exhibit at ITMA included the new ReNOIR NEXT, a 1.8m-wide, beltless digital printer; the Essetex 2m-wide washing box for knitted and light fabrics; and a new Artistri® PK2600 digital textile pigment ink developed by DuPont™ for EFI™ Reggiani ReNOIR digital textile printers.
Attendees also saw how they can create faster, more-efficient digital production workflows in EFI's world-class production ecosystem. The show featured a technology demonstration of an EFI Fiery® proServer integrated with an EFI Reggiani printer to provide advanced production workflow and colour Management.
"We were thrilled to be at ITMA for the first time as EFI Reggiani at the world's largest textile tradeshow," said Dr. Ambrogio Caccia Dominioni, managing director, EFI Reggiani. "Our stand was consistently crowded throughout the exhibition and many of the visitors – both current customers and new prospects – shared with us how enthusiastic they are about EFI Reggiani and the opportunities we can help them create in a new era of sustainable, high-quality textile printing."
EFI Reggiani's portfolio is designed and manufactured to the highest standards and to simplify textile production across a wide range of industries, including home textile and interior décor, sports and active wear, fashion, outdoor, automotive, and flooring applications. From its original rotary screen technology to its newest digital inkjet printers, EFI Reggiani develops advanced products in response to customer needs and market shifts.
Businesses worldwide create innovative, high-value and high-quality imaging applications with EFI printers, including EFI Reggiani textile production equipment. EFI's printer portfolio, which also features the industry's top LED and UV inkjet narrow-, wide- and superwide-format technologies, gives printing companies profitable opportunities in "The Imaging of Things," delivering greater product customization and appeal in everything from signage and packaging to décor, apparel and industrial manufacturing.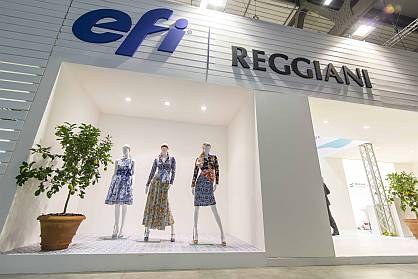 Pic: Outside the booth Efi Reggiani presented clothing made by digital printed fabrics
For more information about EFI Reggiani and other advanced EFI printer technologies, visit www.efi.com.
Related News
Latest News Digital Printing
More News from TEXDATA International

Latest News