Spinning
2016-02-05
Talent promotion – Rieter again supports textile trainees in 2015

Group photo: Lecturers of the Secoli Institute (Milan) and the responsible ITMA project heads from Rieter. On the huge screen at the end of the catwalk, the graduation work of young fashion designers at the Secoli Institute in Milan was shown during the entire exhibition. (c) Rieter
For many years, Rieter has been committed to encouraging textile trainees. In 2015, the Company organised two events for promoting young professionals: in September it was the presentation of the annual Rieter Award and in November a project for the ITMA 2015 in cooperation with fashion design students of the Secoli Institute in Milan.
Rieter Award bestowed for the 27th time
Again in 2015, the best textile students worldwide were honoured with the Rieter Award. To get to know Rieter's headquarters and Swiss culture, a one-week stay in Switzerland was part of this prize. In collaboration with universities and institutes, in 2015 Rieter selected the following six winners:
Mr. Hardik Pujara, Maharaja Sayajirao University of Baroda (India)
Ms Caroline Marques Castanho, University Center of FEI (Brazil)
Ms Pelin Yilmaz, Dokuz Eylül University (Turkey)Ms Yonca Gülgün, Dokuz Eylül University (Turkey)
Mr. Liangjun Xia, Wuhan Textile University (China)Mr. Muhammad Bilal Prevez, National Textile University (Pakistan)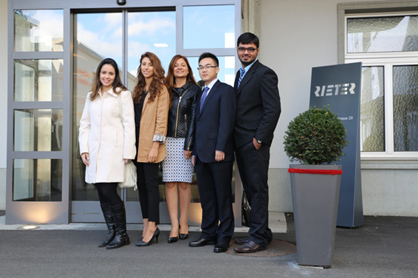 Pic: Rieter Award Winners 2015 Left to right: Caroline Marques Castanho (Brazil), Yonca Gülgün (Turkey), Pelin Yilmaz (Turkey), Liangjun Xia (China) and Hardik Pujara (India). Missing on the picture is Muhammad Bilal Prevez. He will receive his Award in a ceremony at his university.
ITMA 2015 – Fashion show on the Rieter BOOTH
At the ITMA 2015, from 12 to 19 November in Milan, Rieter was present with an innovative booth concept. Central element and eye-catcher was a three metre wide catwalk which ended at a huge screen.On the screen, a fashion show was running which showed the graduation work of the fashion design students of the Secoli Institute in Milan. This project gave young designers the opportunity to showcase themselves within the framework of an important textile exhibition. The interest this aroused was gratifying for all parties. The visit by lecturers of the Secoli Institute and an expert discussion were the highlights and simultaneously the conclusion of this project.Rieter is pleased with the successful ITMA appearance and will continue to promote and support young textile professionals and talents in 2016. Rieter makes extensive study material available. This includes Rikipedia, the online encyclopedia of spinning technology, as well as a textile calculator for using on the computer and smartphone. The talent search for the Award 2016 has already begun.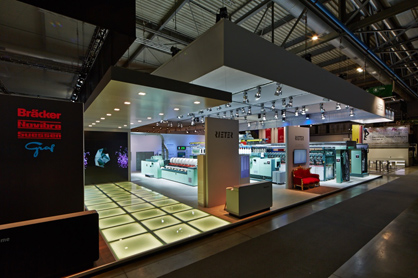 Pic: ITMA 2015 – the innovative and compact stand concept included all Rieter Business Groups. Eye-catcher there was the dimly illuminated catwalk in front of the big screen, on which the fashion show of the young designers was running.
Related News
More News from Rieter Textile Systems

Latest News