ITMA 2015
2015-09-24
ITMA 2015 - Autefa Solutions Nonwovens Technology leads the way to efficiency and sustainability with innovative solutions

Autefa Solutions Carding line
At ITMA in Milan Autefa Solutions is presented in Hall 3, booth A 102 with the business fields Nonwovens Technology, Woollen Carding Technology and Fiber Logistics Technology. Autefa Solutions Group unites the brands Autefa, Fehrer, F.O.R., Octir and Strahm. Autefa Solutions is part of China Hi-Tech Group Corporation (CHTC), the largest Chinese textile group.
Autefa Solutions Nonwovens Technology leads the way to efficiency and sustainability with innovative solutions
 
Future customer demands are the focus of Autefa Solutions new developments. Autefa Solutions leads the way to productivity and quality for standard applications as well as when carbon fibers and renewable and recyclable fibers are concerned.
In Milan Autefa Solutions presents the new generation of nonwovens cards. The new card is specially developed and designed for high production speeds, tailored to the worldwide requirements of Nonwoven Lines. A unique construction enables an easy accessibility of the card which results in considerably reduced cleaning and maintenance periods and a much higher efficiency.

The new crosslapper Topliner CL 4004 SL is characterised by a high infeed speed of up to 150 m/min and a precise weight distribution. These advantages are very important especially for applications in spunlace lines.

The lapping of the web layers is continuously monitored, which minimizes rejects and saves material. For the significant material saving the crosslapper Topliner already received the VDMA Blue Competence Award. Autefa Solutions extends its belt dryer portfolio with machines for the high temperature range of up to 500 degrees Celsius.
These drying machines are applied in wetlaid lines. In Milan a modified HiPerTherm double belt oven for the thermal bonding of crosslapped and aerodynamically formed webs is shown.
For mechanical web forming Autefa Solutions offers the Needle Loom Stylus, which is available both with and without Variliptic drive. At ITMA the Automatic Needle Exchanger 2.0 is shown, which enables a fully automatic process of needle exchange without manual intervention. Material saving, optimum resource utilisation and the need for multiple utilisation cycles are an important contribution to sustainable manufacturing processes.
At ITMA 2015 Autefa Solutions will present a new modular tearing concept for the first time. The tearing machine UniRec is based on a modular design with 1-5 available opening units, which was developed for recycling of nonwovens and waste with a high degree of special fibers such as carbon, aramids, glass-, natural and synthetic fiber blends. The business branch Woollen Carding Technology with the brand name Octir is the market leading manufacturer of cards for long staple (natural and synthetic) fibers. In the last 2 years the company has supplied more than 30 woollen carding sets for cashmere spinning and 6 cards for semi worsted spinning, to famous spinning mills.
Autefa Solutions increases the potential in the supply chain of fibers

The business branch Fiber Logistics Technology of Autefa Solutions presents at ITMA the transfer fork UNI-FORK. The transfer fork UNI-FORK and the wrapping machine AD-WRAP are worldwide unique and protected by a patent. Together they build a system which stands for a strong reduction of personal costs, a high availability of the line and a short amortization period. Being a market leader of automatic fiber logistics and manufacturer of hydraulic fiber bale presses, Autefa Solutions presents with the UNI-FORK a machine which optimizes the process of pressing a bale, increases the efficiency of the process and improves the quality of the fiber packing.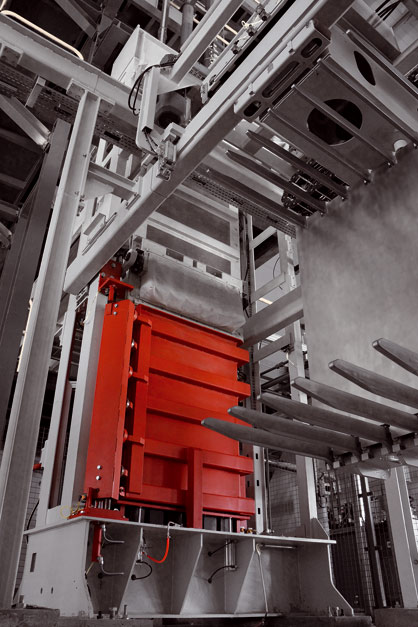 Picture: Autefa Solutions baling press and transfer fork UNI-FORK
Related News
More News from AUTEFA SOLUTIONS GERMANY GMBH

Latest News