Domotex 2018
2018-01-04
BleNaBis: Climate-neutrale carpet fibres - awarded by KlimaExpo.NRW
The surfaces of carpets are generally made of wool or synthetic fibres such as polyamide. The carbon footprints of these two materials are not as "fluffy" as the carpets are soft however: wool production is an energy-intensive process as a result of keeping animals. In collaboration with other European research institutes, the Institut für Textiltechnik (ITA) of RWTH Aachen University is currently develops a climate-neutral yarn based on renewable raw materials, which will not only match the quality of polyamide, but can also be produced in a more energy efficient way.
The fibres consist of linseed fibres and a sustainable eco-polyamide fibre. The linseed fibre comes from flax fibre which is extracted from the stems of flax plants that are no longer needed. The eco-polyamide fibre consists of 70 percent castor oil, which is obtained from the castor oil plant, a plant that does not compete with the food production sector. The combination of these two fibres will make the carpet durable and of high quality. The fibre blend is expected to cut the climate footprint of a carpet by 50 %.

Quality control using the office chair simulator

More than 50 per cent of all carpets are not woven but "tufted", whereby textile loops are worked into a fabric backing, similar to the method used in tatting. The quality standards are high and the carpets produced have to be subjected to very stringent quality analysis. An office chair simulator carries out a stress test to check whether the carpet can withstand the level of wear to be expected in an office.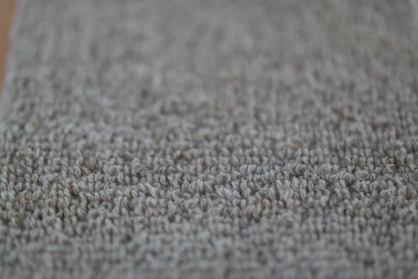 BleNaBis carpet (c) 2018 ITA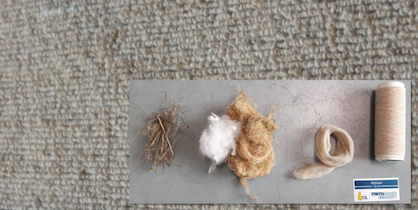 BleNaBis process steps (c) 2018 ITA
Hybrid carpet yarn Linseedflax and biobased Polyamide 6.10 (c) 2018 ITA
BleNaBis (Blends of Natural and Biosynthetic fibres for eco-efficient yarns and carpets) covers all stages of the value added chain: from harvesting right up to producing the carpet.
The flax fibre is cultivated and processed in the Czech Republic; the ITA mixes the linseed fibre with the polyamide fibre and spins the yarn from this using the rotor spinning process. The production and testing of the carpets is then carried out at the TFI Institut für Bodensysteme an der RWTH Aachen e.V.
The BleNaBis project was funded by the Federation of Industrial Research Associations (AiF) as part of the programme to support Industrial Community Research and Development (IGF) through a grant by the German Federal Ministry for Economic Affairs and Energy, on the basis of a resolution passed by the German Bundestag.
The official award ceremony will take place at the beginning of 2018.
Engineer Dipl.-Ing. Marko Wischnowski and M.Sc. Tobias Schlüter, both ITA, Project Leaders of BleNaBis say: "In the BleNaBis project, we are developing processes used to produce flooring systems from bio-based polyamides and linseed flax fibres. The combination of these two materials allows us to improve the carbon footprint of flooring systems. In addition, we are demonstrating new areas of application for natural fibres and bio-based polyamides."

Related News
More News from Institut für Textiltechnik of RWTH Aachen University (ITA)

Latest News