Associations
2022-07-07
EDANA elects new board and awards Krzysztof D. Malowaniec with EDANA Life-Time Achievement

EDANA welcomes 6 new governors (c) 2022 EDANA
EDANA, the leading global association serving the nonwovens and related industries, has elected six new Governors and a new team of Officers for 2022 - 2023. Mikael Staal Axelsen (Fibertex Personal Care) remains as Chair, supported by new Vice-Chairs Omar Hoek (SWM International, Luxembourg) and Jörg Ortmeier (TWE, Germany) and Treasurer Giorgio Mantovani (Corman, Italy). Announced at EDANA's recent Annual Strategic Review and AGM held in Lyon, the newly elected board began their term on July 1st, by when Murat Dogru also takes over as General Manager.
The association is ready to address future challenges with new general manager and renewed officers team
"EDANA now has over 310 members and a broader reach and wider scope than ever, after reinforcing its representation even during the pandemic. It is encouraging therefore to welcome new blood with Murat Dogru as General Manager and a renewal of expertise to our board" said Mr. Staal Axelsen. "The ongoing member confidence in our association to drive our determined and broad agenda is very rewarding. EDANA's ongoing successful fostering of an environment beneficial to innovation, and to sustainable and profitable growth, is a great testament to the professionalism of the team and our members."

The following Governors were elected as new Board members:
• Matthew Bird, Global Vice President - Paul Hartmann, Germany

• Robin Guillaud: EVP Sustainability, Innovation, Marketing, Ahlstrom-Munksjö, France

• Klaus Hering, Vice President Sales & Business Development, RKW SE, Germany

• Daniel Krumme, Managing Director, Innovatec Microfibre Technology, Germany

• Anke Renz, Global VP R&D Personal Care, Essity, Sweden

• Lori A. Shaffer, Vice President, Global Nonwovens, Kimberly-Clark, United States

The team of Officers is reinforced by Executive Governors, co-opted by the Board: Mr Thorsten Habeck (Business Director - Fiber Bonding Europe, Middle East & Africa, BASF, Germany), Mr Ulrich Hornfeck (Board Member & Chief Commercial Officer, Sandler, Germany), and Mr Mark A. Thornton (Vice President Global Materials and Packaging, Procter & Gamble, United States).
A complete list of the EDANA Board of Governors is available on the website.
https://www.edana.org/about-us/edana-board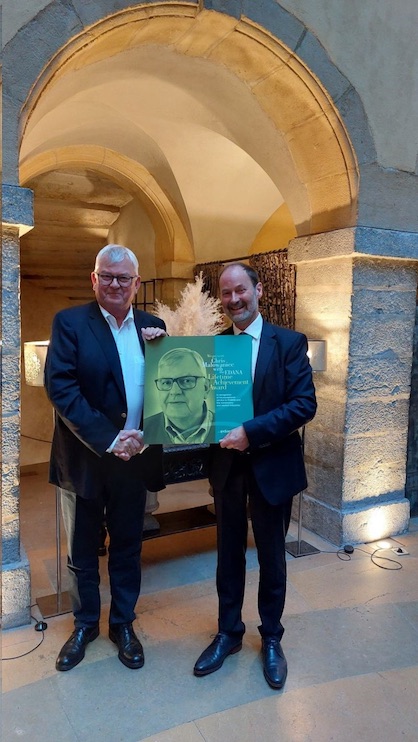 (c) 2022 EDANA
At the June AGM, special thanks were extended to Mr Krzysztof Malowaniec (Paul Hartmann) who is retiring and leaving the EDANA Board of Governors after over 25 years, an exceptional commitment for which he received an EDANA Life-Time Achievement Award.

Related News
More News from EDANA

Latest News