Yarn & Fiber
2018-02-15
YUIMA NAKAZATO to present its latest couture collection and manufacturing system for mankind's future garments
YUIMA NAKAZATO CO. and Toray Industries announced the YUIMA NAKAZATO Exhibition – HARMONIZE – to be held for five days from Wednesday, February 21, 2018 to Sunday, February 25, 2018 at the design exhibition space 21_21 DESIGN SIGHT Gallery 3 at Midtown Garden, Tokyo Midtown.
The exhibition features the latest collection of YUIMA NAKAZATO introduced at the Paris Haute Couture Fashion Week on January 22, 2018 and its proprietary manufacturing system of innovative clothes along with its new products using Ultrasuede®PX, an environmentally friendly suede texture fabric invented by Toray.
"Eventually, each and every garment will be unique and different." This is what YUIMA NAKAZATO envisions as the future of mankind, aiming to create totally new clothes that harmonize with individuals who wear them and can be handed down to others.

Based on this vision, YUIMA NAKAZATO reconsidered the way clothes had been produced conventionally and de-veloped an innovative method to manufacture clothes without sewing. Assembling clothes with originally developed parts called "Units" makes it possible to freely combine and rearrange their design, size, and materials, leading to gar-ments that harmonize with everyone who wears them. It is a completely new manufacturing system that realizes mass customization of clothes.
Ultrasuede® is a high-sensitivity, high-performance advanced fibers material that Toray, the inventor of microfiber, created by leveraging its advanced fiber technology. It has high industrial productivity as it is uniform and stable while its edges can be left without stitching after cutting, giving Ultrasuede® a high affinity with the manufacturing system developed by YUIMA NAKAZATO.
Ultrasuede®PX, using Synthetic Fiber derived from Plant-based Recycled Resources with an aim of realizing sustain-able global environment, conforms to the vision of YUIMA NAKAZATO with an eye on the future.

In anticipation of its innovativeness and craftsmanship as a Japanese, YUIMA NAKAZATO was invited to Paris Haute Couture Fashion Week as an official Guest Member by the Chambre Syndicale de la Haute Couture.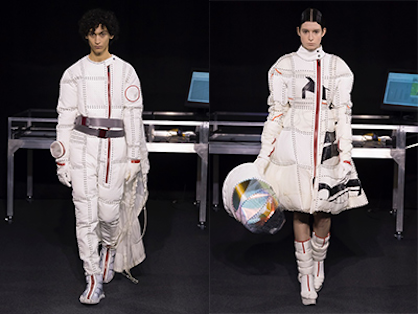 YUIMA NAKAZATO SPRING/SUMMER 2018 COLLECTION (c) 2018 Toray (Photo credit: SHOJI FUJII)
He became the second ever Japanese designer to present his collection on the Week's official calendar and has presented his latest collections since July 2016. The Spring/Summer 2018 collection held this month marked his fourth participation.
Traditionally, haute couture was accessible to a limited, small fraction of people. However, the innovative manufac-turing system proposed by YUIMA NAKAZATO will realize new couture that can be enjoyed by anyone.
At this exhibition, visitors are encouraged to experience the future of mankind's garments envisioned by YUIMA NAKAZATO who wishes to deliver ultimate one-of-a-kind clothes to each and every person in the world.

Related News
More News from Toray Engineering Co. Ltd.

Latest News