Shanghaitex-2013
2013-05-30
FONGs will present innovations at Shanghaitex

The Xorella XO series vacuum and conditioning machines (Cubical model machine) (c) 2013 FONGs
Since 1963, FONG'S Industries Group keeps pursuing the same goal in the past 50 years: Having the most advanced technology, research and development to assist customers achieving high efficiency and cost reduction to improve their global competitiveness and maximize their return on investment.
Having had a reshape of the organization in the past years, the Hong Kong based company now covers profound knowledge and experience of the continuous as well as the discontinuous dyeing and finishing processes with the well-known brands FONG'S, GOLLER, THEN, MONFORTS, XORELLA, MONFORTS FONG'S and FONG'S WATER TECHNOLOGY in their portfolio. For the forthcoming ShanghaiTEX 2013, FONG's will showcase in Hall E1, Stand K01 and Hall W3, Stand B01 to demonstrate the corporate success in its 50th anniversary and the latest technology from the pre-treatment, dyeing, finishing and water reuse as an "one-stop" solution. With the increasingly stringent requirements of global textile market for ecological and environmental protection, climbing energy costs, coupled with the European economic downturn, and spread gloom over Asia- Pacific areas, dyeing and finishing industry is experiencing a period of unprecedented difficulties.
The new generation of FONGs TEC Series High Temperature Dyeing Machine (Hall W3, Stand B01) with its premium quality and focus on "Lower Cost, Higher Quality and More Eco-friendly", injects infinite vitality to the textile industry. It is suitable for different dyeing process with various types of natural, synthetic and blended fibers, aiming to provide complete solutions: "Efficiency, Energy Saving, Environmental Friendly".
Efficiency (Versatile Application): TEC series is specially designed for fabric which is having tight and crease marks sensitive structure, such as 40S/2, 26S/1, 20S/1, tightly knitted fabric, and sensitive shade (E.g. Turquose)
Energy Saving: With various new functions, cotton reactive dyeing process takes about approximately 248 minutes for light color
Capacity: The new TEC Series is offered various capacities per chamber: 300kg (JUMBOTEC), 250kg (MIDITEC) and 200kg (MINITEC). Customer can choose in range of 1-12 tube.
FC30 color multi-function controller: By the Fuzzy Logic temperature control function, the dye liquid temperature deviation can be minimized at + / -0.3 ° C.
Patented design - "Lint Collector": Specially designed for loose structure type such as terry towel and fleece; the collector can accumulate lint at the bottom and discharge it during draining.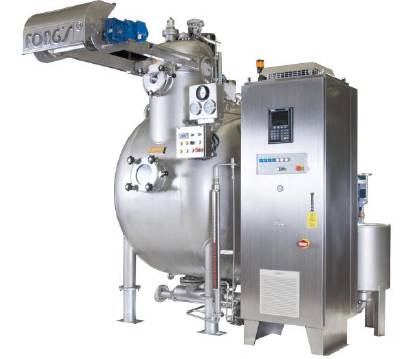 Pic: FNECL in Shanghai TEX 2013 will showcase the latest MINITEC2-1T (60kg / tube) models
New generation of FC30 program controller ( Pic.2) has a 6.5-inch 640x480-pixel, TFT color LCD display together with novel control functions, provides the most cost-effective dye cycle control. FC30 can also integrate with FONG'S viewtex and THEN TDS central computer system, providing comprehensive control management.
GOLLER's high efficiency washing compartment – EFFECTA (Hall E1, Stand K01) is designed by German expert of GOLLER specifically for woven fabrics washing used. It is one of the most important units for open-width wet finishing range. In order to facilitate the thorough interchange of fabric's impurities and cleansing agent, put sufficient amount of cleansing agent into EFFECTA subject to the level of washing that fabric requires. This washing compartment provides a wide variety of washing,
including dip washing, high efficiency washing, counter current flow in cascade washing, turbulent washing and spraying washing. Besides, the adoption of big-sized guiding rollers increases the wrapping angle of fabric and the configuration of counter current flow in cascade enhances the washing efficiency of fabric.
UNIPULSA – a distinctive component that is designed by GOLLER's team for EFFECTA so as to enhance the washing efficiency of fabric by generating turbulent washing. The rotating frequency of UNIPULSA's rotor can be adjusted according to the fabric's application. EFFECTA can be in single threading-typed or double threading-typed with the upper rollers driven by motors and equipped with 2-bowl squeezer or high efficiency squeezer FXT. It can be applied for washing after many wet finishing processes, such as desizing, sourcing and bleaching, mercerizing, dyeing, printing and moist crosslinking. At ShanghaiTex 2013, visitors are mostly welcome to come and see the latest GOLLER's EFFECTA, single threading-typed or double threading-typed with high efficiency squeezer FXT at their booth.
XORELLA's XO-Series (Hall E1, Stand K01) energy saving vacuum conditioning and heat setting machines has been well used in improving the quality of yarn and also heat setting of garment. The Xorella XO-Steaming treatment could even penetrate the textile products for humidification, twist setting, preshrinking the synthetic filament, anti static, colour fixation of digital printed fabric and heat setting of garment. The latest saturated steam generating system could reduce 30% of connected power loading and save between 15% to 25% energy consumption. In order to satisfy the requirement of different users, Xorella provides both round and cubical machine and also variety of loading and door opening systems for customer selection. Nowadays, XO-Series machines were used in more than 50 countries in the world.
Since established in 1999, Monfongs (Hall E1, Stand K01) continues to introduce advanced technology from A. Monforts Germany and couples with the high efficiency production power in China, whatever the TWINAIR 328 Stenter Frame Range we manufactured at the early stage and the latest Monforts model MONTEX 6500 Stenter Frame Range we started to build in 2010, or the Shrinking Range for woven fabric industry started manufacturing in 2007, feedback of these products and our service from the market is positive.
Thanks to the support from A. Monforts technology and the hard work of the FONGs team group, Monfongs (Hall E1, Stand K01) is going to introduce the Monforts THERMEX 6500 Hotflue this year. The short-loop hotflue is the best unit for drying and thermolization of continuous woven dying, whilst the long-loop hotflue is specially for curing of dry fabric. All rollers in the chamber are equipped with 180mm diameter guide roller with individual drive each pair of top roller. To respond to the China national call on environmental protection, the exhibit unit is using indirect gas heating, fulfilling the policy as well as solving the problem of exhaust flue polluting the sensitive fabric and chemicals. For limited energy sourcing in some area, the company can also provide different heating systems such as direct gas heating, thermo oil heating as well as steam heating.
The new model THERMEX 6500 has another advantage that most parts are pre-assembled before shipment. This will help to shorten the installation period at site. There are several types of cloth content hotflue and can be lined up in series, adding the dyeing padder and infra-red pre-dryer, to meet the production and technology of the customer. Monfongs believes the new THERMEX 6500 Range will fill up their machinery supply in the woven fabric dyeing and finishing industry and helpful for customer in one-stop decision making.
In the Knits finishing field, Monfongs stenter frame ranges are everywhere in the country. Their market share in other continents like Asia, Africa, Europe and America has also significant improvement. To satisfy the market demands, Monfongs Zhongshan plant has contributed investment in new/replacing tools and equipments. The goal is progressive improving. Monfongs announced that they are ready to build the complete scope and most advanced ranges to the world.
THEN (Hall W3, Stand B01) will first launch its new champion of innovation -the SYNERGY 8 in its own showroom by invitation only in ShanghaiTEX 2013. The latest version of the legendary THEN-AIRFLOW®, the SYNERGY 8, is breaking the barrier of capacity, the model extends up to 12 tubes (Max. Capacity 3600kg) with individual control, suitable for various kinds of fabrics with better flexibility, quality and ergonomics. It has been awarded by the Hong Kong Institution of Engineers in Industrial Category of the Innovation for the Engineering Industry 2013 and will showcase the following innovative functions:
Individual Blower Per Tube
Integrated Misting Sets
Integrated Intelligent Rinsing (IIR)
Volumedos Modulated Dosing
FWT Water Recycling System (Hall W3, Stand B01)
can reuse any kind of qualified discharge water by using the most advanced and reliable dual-membrane processes (ultrafiltration system combined with reverse osmosis membrane system). The recycled water can be directly used for all dyeing processes after most of the mineral salts, calcium, magnesium hardness, Chroma, turbidity and COD composition are effectively removed from the waste water. The quality indicators of reused water is superior to the normal tap water. If the feeding water meets the required standard, the reject from reverse osmosis can be discharged without additional treatment.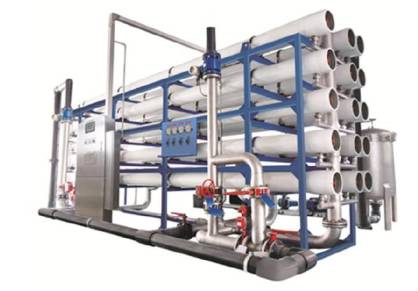 Pic: FWT Water Recycling System
Related News
Latest News Shanghaitex-2013
More News from FONG'S Europe GmbH

Latest News