India ITME 2012
2013-01-10
Fong's Received Overwhelming Market Responses in ITME

The Fong's booth at the India ITME was always crowded by customers (c) 201 Fong's
The just concluded 2012 India ITME during December 2nd – 7th has unprecedentedly attracted the highest number of 810 exhibitors from 42 countries, with the number of trade visitors exceeding 100,000 in total. The 6-day show was recognized locally and internationally as an extraordinary platform for showcasing the latest technology and development in textile industry.
Fong's booth was situated at Stall S1/U2, at the entrance of Hall 6. With absolute location advantage Fong's received thousands of visitors per day, one of the most frequented booths in ITME. JUMBOTEC High Temperature Dyeing Machine and ALLWIN PLUS High Temperatre Package Dyeing Machine, Fong's two flagship machines in the range of fabric and package dyeing, were displayed between 2nd and 7th December, 2012. Visitors arrived at Fong's stall with deep
interest and clear purpose for a better solution to energy and cost saving. Through a professional sales and service team on site, questions popped by customers were addressed satisfactorily; deals were closed and confidence in Fong's products and service were further consolidated at large.
JUMBOTEC, in particular, since the launching in 2011, has been receiving enormous attention from customers who are sourcing for more cost-effective solution for their dyehouses. As known, the new TEC Series High Temperature Dyeing Machine with state-of-art design further refines dyeing machine performance in terms of cost control, energy saving and emission reduction. It is suitable for different dyeing process with various types of natural, synthetic and blended fibers, aiming to provide complete solutions: "Efficiency, Energy Saving, Environmental Friendly".
Pic: JUMBOTEC High Temperature Dyeing Machine

Complete Monforts Acquisition
Mr. Ji Xin, Chief Operation Officer and Executive Director, Fong's, brought the news in person to India ITME 2012 to share our joyfulness of 100% acquisition of Monforts. At the end of November, Mr. Ji was in Germany to officially close the deal and from 1st of December 2012, Monforts has been officially a part of the Fong's Group. The strategic thinking behind is to efficiently utilize the technology and know-how of Monforts in dry and wet finishing processes across the Fong's Groups.
Fong's Group Constructing the Largest Machinery Manufacturing Facility
"The second phase of Fong's Zhongshan project has just kicked off and will be completed by end of 2014", updated by Mr. Ji Xin during ITME.
Fong's Zhongshan project is the most important and strategic move by the Fong's Group. Fong's has acquired a total area of 700,000 aq. meters of land and will construct approximately 400,000 sq. meters of factory. The Zhongshan project would be the major manufacturing facility of the Fong's Group. The first phase of the project (area of 120,000 sq. meters) was completed two months back which is mainly for our joint venture with Monforts. The Zhongshan project will help reduction in cost of manufacturing. Apart from this, the new facility will have state-of-the-art automation which will also contribute to efficiency and cost benefits.
Fong's sees huge potential here since India's knit processing sector is underdeveloped, and there is still large room for growth, shared by Mr. Walter Leung, Sales Director, Fong's. Traditionally, India has not been aggressive in Knits. It is India's neighbor Bangladesh that has grown exponentially in knitting and processing. But that country is facing sever energy crisis since the last two years and there is no clarity on when the energy crisis would end. Thus buyers are now increasingly focusing on the Indian Market and knit processing industry in the country. That is the reason why Fong's also has a number of new ongoing processing projects coming up in the eastern part of the country near Kolkata.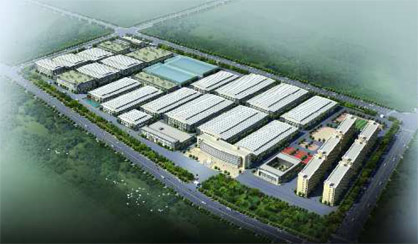 Pic: Fong's Zhongshan project with a total area of 700,000 aq. meters
Mr. Walter Leung responded, "Fong's is also increasingly focusing on developing technology around the "sustainability" issues", addressing media's queries regarding the foreseeable future trend and development of Fong's. Nowadays, for customers who are supplying international clients and brands, their major concerns should be production sustainability. Fong's has been paying attention to increasing the development on sustainability so that our customer can achieve greener production and meet the environmental and quality standards being demanded by brands.
India ITME 2012 surpassed expectations of exhibitors and visitor, so Fong's did. Of paramount significance as far as Fong's Groups is concerned is the top priority to enhance technological upgrading and R&D capacity so as to continue serving as locomotive in textile industry for a more cost-effective and greener tomorrow!
Related News
Latest News India ITME 2012
More News from FONG'S Europe GmbH

Latest News