ITMA-Asia + CITME-2016
2016-10-18
Santex Rimar Group is focused on customers
On the occasion of ITMA ASIA 2016 SANTEX RIMAR GROUP, one of the leading players in the world market of machine manufacturers for weaving, textile finishing, nonwovens, technical textiles and green solutions, will participate with all Group's brands unified to strengthen the new mission of being the only reference partner for different solutions.
SANTEX RIMAR GROUP (HALL 6 / BOOTH D53) has reached the perfect balance of deep knowledge, design and high quality throughout the production process to build a strong, long lasting and mutually beneficial relationship with customers, together with whom we share visions about developments, processes, productions, materials and fabrics.
"With almost 30,000 machines installed worldwide we are constantly visiting customers and listening to them. Our goal is to provide custom solutions in terms of quality and sustainability in order to enable them to build stronger relationships also with their customers: our customers' success is our success" said Stefano Gallucci, SANTEX RIMAR GROUP CEO, and concludes: "Santex Rimar Group is flexible, integrated, sustainable and above all, expert on customers".
The Group keeps on investing in Qingpu (Shanghai) based production site to fulfil the demand of such an important market like China. Also thanks to the local management, Chinese productions are continuously growing and improving and machines' level upgraded. The strong commitment to China has been confirmed also with the establishment of New Smit China, under the lead of Mr. Rock Luo, to strengthen customers' support.
As a technology partner for knitted, woven fabrics, nonwovens and green solutions the Group started as different companies that in 2015 have evolved into SANTEX RIMAR GROUP: Cavitec and Isotex lead the technical textiles machinery market; Santex and Sperotto Rimar produce machines for textile finishing; Solwa provides eco-friendly machinery for water treatment, food dehydration, agribusiness sector and industrial waste management. With the entrance of SMIT, the Group has recently become a solution provider also in the weaving sector.
Santex Rimar Group's Weaving division will be present in Shanghai with a Terry Jaquard loom under SMIT brand for first rate terry towels productions.
Textile finishing division will be present with Decofast machine under Sperotto Rimar brand. It will be possible to see some fabrics treated by Santasynpact, Sanfor and Compacting process machine under Santex brand.
Technical Textile division will be present with Cavimelt P+P, the latest solution under Cavitec brand for coating and laminating, while Isotex which is working on a partnership with Covestro on water based solvent free synthetic leather, will be present with a Coating Head.

SMIT TERRY JAQUARD LOOM – GS940 F
GS940 F technology to produce first-rate terry fabrics is characterized by the patented system of pile formation by slay motion that ensures the gentlest treatment of warp yarns called Dynamic Pile Control. The electronic pile control allows freely programmable pick ratio to create unique pile relief patterns.
The maximum loose pick distance of 24mm and the freely programmable pile height enable to introduce unique effects such as waveforms. Thanks to GS940 F customers can leverage on new competitive advantages towards customers.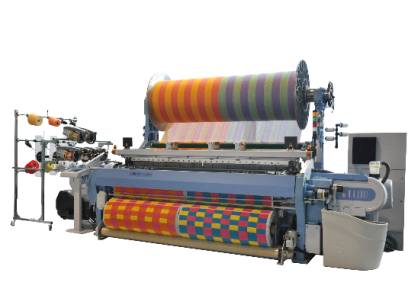 Pic: SMIT terry jaquard loom – GS940 F
SPEROTTO RIMAR DECOFAST
The wished aim is to find levels of treatment much more efficient than those of the atmospheric decatizing in continuous, up to exceed the results of the traditional back-decatizing machines.
Besides, the introduction of new fivers in the wool fabrics such as the elastomers destined to the informal clothing brought to the definition of new technologies requested by the new millennium and whose features are present in DECOFAST.
Pic: Sperotto Rimar Decofast

CAVITEC CAVIMELT P+P
CAVIMELT P+P is a compact machine developed with the goals of precision, production and cost effectiveness in Hotmelt coating and lamination using an engraved roller. Integrated within the machine frame are both the un- and re-winder, accepting rolls up to 600 mm in diameter.
Conversion to the alternative tensionless contact unwinding mode is performed simply through removal of the quickly detachable brush expander rollers. All well-known adheseves in thermoplastic and reactive Hotmelts are applicable.
Delivered pre-wired, assembled and tested, CAVIMELT P+P stands for Plug+Play because of short installation and commissioning time.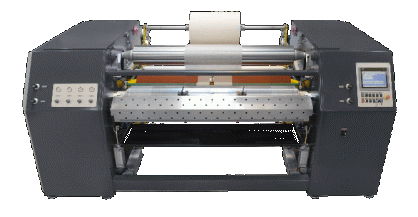 Pic: CAVITEC CAVIMELT P+P

ISOTEX Coating head
Isotex is a specialised supplier of coating and laminating lines to a great variety of industrial sectors, such as airbags, technical textiles, tarpaulin and medical adhesives, the industrial composites and many others.
Isowear is an example of a great variety of industrial sectors such as coated items for Sportswear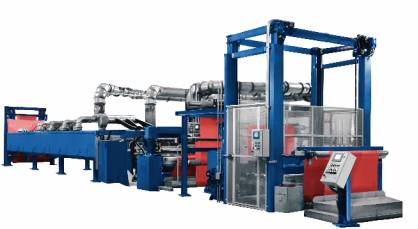 Pic: ISOTEX Coating line
Related News
Latest News ITMA-Asia + CITME-2016
More News from Santex Rimar Group

Latest News