Yarn & Fiber
2013-07-04
Natural fibers with ecological high-tech finish
A Greenpeace recommendation: ecorepel® (c) 2013 Schoeller Textile
In the 2015 summer collection the major focus at Schoeller Textil is on ecorepel® , the fluorocarbon-free water and dirt-repelling finishing technology.
Cotton blends in earthy, warm shades or refreshing Cool Fabrics in the colors of the sea set accents while various graphic punch patterns lend structure.
Ecology, sustainability and naturalness are the major themes for Schoeller Summer 2015. Headlining them up is ecorepel® , the fluorocarbon-free finishing technology for natural water and dirt repellence. ecorepel® was recommended in the recently published Greenpeace study as a positive alternative to textile finishes containing fluorocarbons. High abrasion resistant, biodegradable and wash resistant: this ecological high-tech finish enhances various schoeller® -WB-400 qualities such as light summer soft shells with embossed dots in petrol and subtle orange or supersoft cotton blend fabrics in a sporty urban look.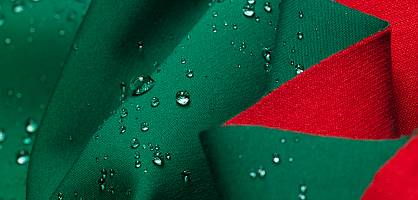 Pic: In 2015 on the golf course: authentic cotton with ecorepel® work
Naturalness plays a major role in more than just the finish of the current fabric collection from Schoeller Textil. Warm shades of green, brown, beige and yellow, as well as the shades of the sky and the sea, dominate. Authentic cotton looks with ecorepel® work beautifully on the golf course or out on the town. The emerald green, bi-elastic schoeller® -shape pants quality is perfectly color coordinated with the sporty-elegant, very fine double face in the same green with vibrant red reverse.
"Real cool" is how the new Cool Fabrics from Schoeller present  themselves. schoeller® -dryskin fabrics in a juicy lemon yellow with  additional coldblack®  warmth and UV protection as well as 3XDRY® feelgood technology keep the wearer pleasantly cool on warm days or  during sporting activities. A few examples of Cool Fabrics with  outstanding ventilation and a cool touch are the light schoeller® -WB-400 doubleface in petrol/beige or beige/white or a smooth, crosswise-elastic schoeller® -shape fabric in sophisticated navy blue.
At Schoeller, surprise effects are now being  produced with prints. Whether in existing  designs such as a cracking, melting sheet of  ice or the customer's own artwork, Schoeller  offers light schoeller® -dynamics, pliant schoeller® -dryskin soft-shells or schoeller® - prestige fabrics that can be printed. A  fascinating look is also created by large-scale dots on schoeller® -WB-400 soft-shells with colorcontrasting reverse.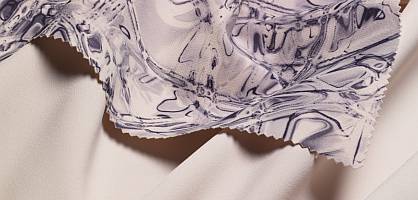 Pic: Prints
Various laser cuts have a technical appeal and  draw all eyes with a variety of graphic  patterns. Some examples are a schoeller® - WB-400 doubleface in matt khaki/beige, as  shiny, aluminium-coated schoeller® -spirit in  refreshing mint green or as an airy light  schoeller® -dynamic version in vivid turquoise  or lemon. Inspiration for experimental ideas is also offered by unusual schoeller® -spirit spacer fabrics  in loud colors and the ecological ecorepel®  technology.
Related News
More News from Schoeller GmbH & CoKG

Latest News