Recycling
2023-05-04
Renewcell named winner in Fast Company's 2023 World Changing Ideas Awards

Sundsvall exterior by Donka © 2023 Renewcell
The winners of Fast Company's 2023 World Changing Ideas Awards were announced today, honoring sustainable designs, innovative products, bold social initiatives, and other creative projects that are changing the way we work, live, and interact with the world.
Renewcell is the recepient of the Fast Company 2023 World Changing Ideas Awards for the Sustainability/Energy category with the development of recycling unused textiles into pulp, branded as CIRCULOSE®, used for man-made cellulosic fiber production of viscose, modal, lyocell, acetate and other fibers. Additionally Renewcell is recognized as a finalist in the Europe, the Middle East, and Africa category, as well as a finalist in the climate category for the 2023 World Changing Ideas Awards.
This year's World Changing Ideas Awards showcase 45 winners, 216 finalists, and more than 300 honorable mentions—with health, climate, energy, and AI among the most popular categories. A panel of Fast Company editors and reporters selected winners and finalists from a pool of more than 2,200 entries across urban design, education, nature, politics, technology, corporate social responsibility, and more. Several new categories were added this year including rapid response, crypto and blockchain, agriculture, and workplace. The 2023 awards feature entries from across the globe, from Italy to Singapore to New Zealand. Fast Company's Spring 2023 issue (on newsstands May 9, 2023) will showcase some of the world's most inventive entrepreneurs and forward-thinking companies that are actively tackling global challenges.

"We are thrilled to be awarded the Fast Company World Changing Ideas Award in 2023," says Patrik Lundstrom, Chief Executive Officer of Renewcell. "While Renewcell first received the Fast Company World Changing Ideas Award in 2020, it is clear now more than ever the progress needed to achieve circular solutions with low environmental impacts. Renewcell 1 in Sweden produces CIRCULOSE® using 100% recycled textiles and 100% renewable energy. Consumers purchasing garments made from CIRCULOSE® will not see of feel a difference compared to garments using novel raw materials. With the commitment of our brand and fiber producer partners, garments made with CIRCULOSE® will continue to increase in the market."

"It's thrilling to see the creativity and innovation that are so abundant among this year's honorees," says Fast Company editor-in-chief Brendan Vaughan. "While it's easy to feel discouraged by the state of the world, the entrepreneurs, companies, and nonprofits featured in this package show the limitless potential to address society's most urgent problems. Our journalists have highlighted some of the most exciting and impactful work being done today—from housing to equity to sustainability—and we look forward to seeing not only how these projects evolve but how they inspire others to develop solutions of their own."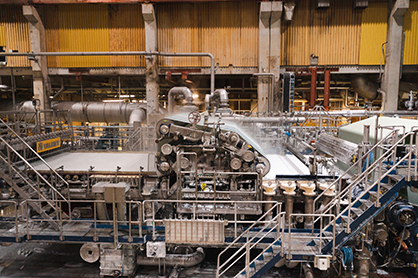 Interior of Production © 2023 Renewcell
Related News
More News from TEXDATA International

Latest News