Sustainability
2023-09-07
Indorama Ventures releases its Sustainability Report 2022: A blueprint for sustainable future for the next generation
Indorama Ventures Public Company Limited, a global sustainable chemical company, unveils its Sustainability Report 2022 entitled "Shifting Towards The Next Generation", showcasing the company's commitment to ESG principles.
Sustainability has become integral to Indorama Ventures over more than three decades, fostering success for customers, suppliers, partners, communities, and employees. The Sustainability Report 2022 features the progress of Indorama Ventures' three business segments – Combined PET, Fibers, and Integrated Oxides & Derivatives (IOD) in addressing integrated value chains, post-Covid growth, resilience, and sustainability plans. The report also highlights contributions to achieving the company's 2025 and 2030 sustainability targets.
Indorama Ventures' ESG achievements in 2022 included 7.2% of recycled/reused water, 72% of waste diverted from landfills, and a 3.84% reduction in its carbon footprint in combined GHG (Scope 1&2) intensity against its 2025 targets.

Indorama Ventures contributes towards building the circular economy through ongoing investment in increasing its PET recycling capability. Post-consumer PET bale input increased by 8%, or 342,961 tons in 2022, equivalent to 15.4 billion bottles. The company also promotes recycling through education, reaching over 253,000 consumers worldwide during the year through its tailored recycling education program. In addition, the company increased its use of, and investment in, bio-based feedstock and recycled feedstock in its operations.

Anthony M. Watanabe, Chief Sustainability Officer of Indorama Ventures, said, "These achievements reflect our commitment to environmental sustainability and our determination to have a positive impact on our world. By integrating sustainable practices into our operations and leveraging innovative solutions, we continue Indorama Ventures' legacy of contributing towards a greener and more circular future."

These sustainability efforts are accredited by the various recognitions the company garnered in 2022, including "Best Sustainable Product" from S&P Chemical Week Sustainability Awards, "Top Sustainability Advocate in Asia" award from Asia's Corporate Leadership and Sustainability (ACES) Awards, "Highly Commended in Circular Transition Award" from Reuters, being listed in the Dow Jones Sustainability Indices (DJSI), and an A rating by MSCI for the first time. Our Gold Recognition Level with EcoVadis demonstrates our best-in-class performance through continued improvements in sustainability practices.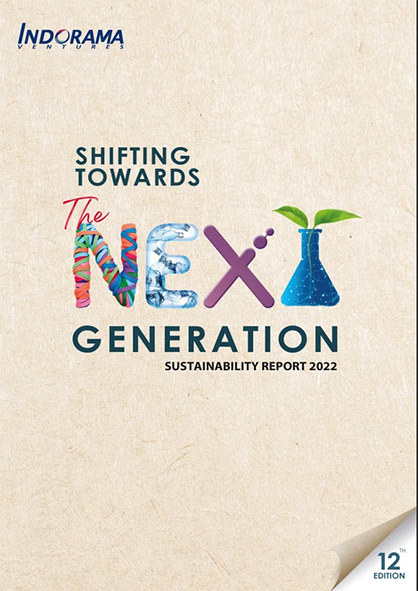 © 2023 Indorama
The Sustainability Report 2022 is available as an executive summary, a full report, and digital report. For more information visit this link: https://sustainability.indoramaventures.com/en/flipbook/211/sustainability-report-2022.html and https://sustainability.indoramaventures.com/en/downloads/digital-sustainability-report-2022
Related News
Latest News Sustainability
More News from TEXDATA International

Latest News