Sustainability
2022-11-17
SABIC highlights its innovative actions to combat climate change at Saudi Green Initiative Forum
SABIC, a global leader in diversified chemicals, highlighted its innovative actions supporting the Kingdom's ambition to realize circularity in alignment with the Saudi Green Initiative (SGI) during its participation at the second editions of the SGI Forum and Middle East Green Initiative (MGI) Summit in tandem with the 27th United Nations climate change conference (COP27) in Sharm El-Sheikh, Egypt, from November 7 to 18.
SABIC presented best practices in the circular carbon economy, climate change, renewable energy, recycling, combating desertification at the two green forums.

This year's SGI Forum under the theme, 'From ambition to action,' brought together global leaders, CEO, investors, experts, and academics to collaborate toward collective and concrete actions for climate change, reverse land degradation, protect marine life and preserve biodiversity.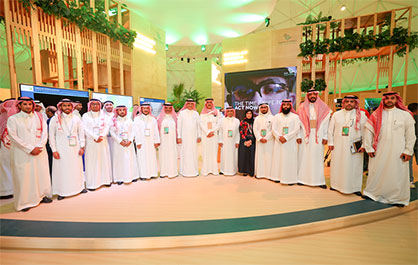 © 2022 SABIC
Addressing a panel discussion, Abdulrahman Al-Fageeh, SABIC CEO (A), said, "We've taken concrete actions to combat climate change through our innovative technologies. SABIC has made significant progress toward net-zero emissions.. In 2021, we achieved a 10% reduction in our carbon emissions (Scope 1&2) compared to 2018 baseline. That's halfway to our interim 2030 target.

As part of the SGI Forum, SABIC emphasized its commitment with various initiatives.

SABIC will work with the Alliance to End Plastic Waste and other partners to conduct baseline studies of the Red Sea and Arabian Gulf as a prelude to address plastic marine pollution there. The intention is not only to clean up existing plastic waste locations but also to prevent any more plastic waste from reaching those bodies of water.

For the circular economy, a cooperative project was carried out between SABIC, Diryah Governance and King Saud University. The Diriyah Palm Waste Recycle project is helping the community of Diriyah turn palm waste into more valuable products rather than burning it. The project has helped in achieving the values of Diriyah Health city. SABIC is now exploring upscaling this successful concept into other areas of the kingdom.

Leveraging its previous success in building and operating the world's largest CO2 purification and liquefaction plant of its kind, SABIC kicked off a study to capture two million tons of CO2 from its assets in Jubail as part of the Kingdom's carbon capture, utilization and storage program that will be operational by 2027.

SABIC, Aramco, and Saudi Aramco Total Refining and Petrochemical Company (SATORP) have completed ISCC plus certification. This achievement is a great milestone toward creating Circular Economy in KSA in which Mixed Plastic Waste is being utilized to produce circular polymers product in KSA and the Middle East. This process is considered as the first in kind in the region.

Tree-plantation project with the National Center for Vegetation Cover. SABIC intends to plant 5 million native trees in four national parks in the Kingdom. The trees will stop desertification, help restore biodiversity and even remove some CO2 from the atmosphere as they grow.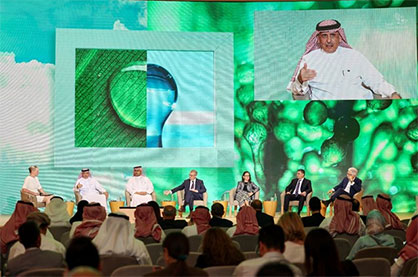 © 2022 SABIC
SABIC, which is a member of the Kingdom's Energy and Climate Change as well as Environment committees, displayed a model of its CO2 capture and utilization plant and showcased an ocean plastic mouse, the exterior shell of which contains 20% recycled ocean plastic, a unique case of collaboration with Microsoft.

20221113-SABIC highlights its innovative actions to combat climate change at Saudi Green Initiative Forum 2
Related News
More News from SABIC

Latest News