Spinning
2023-09-14
Loyalty, friendship – and 10,000 carding machines

F.l.t.r: Mr. Wang Guogang, Editor-in-Chief of China Yarn Network, Chen Shangqing, General Manager of K&E Co., Ltd., Dong Lei, Deputy General Manager of Trützschler China, Mr.Harald Schoepp, General Manager of Trützschler China, Shen Yaohua, Vice Chairman of Suzhou Zhenlun Cotton Textile Co., Ltd., Tang Chao, General Manager of Suzhou Zhenlun Cotton Textile Co., Ltd., Chen Jie, Sales Manager of Trützschler China, Tang Song, Researcher of Information Research Institute of Donghua University. © 2023 Trützschler
Back in 2001, the Trützschler Group created its first wholly-owned subsidiary in China. Now, the team at Trützschler Textile Machinery (Shanghai) Co., Ltd. (TTMS) is celebrating a big landmark – delivering its 10,000th carding machine!
TTMS is located within the Qingpu Industrial Park in Shanghai. When it was first set up, it operated on a site covering around 6,000 square meters. Today, the company's activities have grown to cover more than 40,000 square meters. The TTMS team has also grown from around a dozen people to almost 450 employees. Together, these colleagues are capable of producing and assembling the entire range of spinning preparation machinery, from the blow room through to carding machines, draw frames and spare parts. TTMS also provides card clothing and after-sales services.

Special guests for a special event
The entire team welcomed special guests for a grand ceremony to mark this milestone achievement. The 10,000th carding machine was officially handed over to representatives from the world's largest producer of cellulose yarn, Suzhou Zhenlun Textile Co., Ltd. As Trützschler's largest customer in the Chinese spinning industry, Suzhou Zhenlun has purchased more than 600 cards since the relationship began in 2007.

The distinguished attendees at this commemorative ceremony included a delegation from Suzhou Zhenlun alongside representatives from key partner K&E Co., Ltd and leading industry media network China Yarn, as well as a group from Donghua University. By bringing together such prestigious TTMS partners, the event gained an atmosphere of excitement and shared celebration. The esteemed guests jointly participated in the ribbon-cutting ceremony as a symbol of close cooperation and friendship. All TTMS employees and guests received a special gift as a token of appreciation.

More than a number

"I'd like to express sincere appreciation to our loyal customer, Suzhou Zhenlun, for the delivery of our 10,000th card," said Harald Schoepp, Managing Director of Trützschler China. "Everybody at TTMS is honored to deliver this momentous card to such a deeply important partner for our business. We are truly grateful for the trust and recognition that the team at Suzhou Zhenlun has shown our products since our shared journey began in 2007. Our business partnership is now a close friendship with a heart-to-heart connection. The delivery of our 10,000th carding machine is more than just a milestone or a number. It is a powerful symbol of the enduring strength of the trust, cooperation and friendship that exists between our companies."

Looking ahead to 20,000

"Our company has completed 37 production lines and over 600 carding machines so far, which is way beyond anything we could have imagined," said Mr. Shen Yaohua, Vice Chairman of Suzhou Zhenlun Textile Co., Ltd. "We want to thank the Trützschler team for their outstanding work. We value the quality of Trützschler's products – and so do the downstream customers who purchase our yarn. Trützschler has helped create perfect products for us and our customers. I hope and believe that we will have the opportunity to purchase the 20,000th carding machine from TTMS too. Perhaps we can even achieve it in a shorter time frame of 10 years instead the 20 years it took to reach 10,000."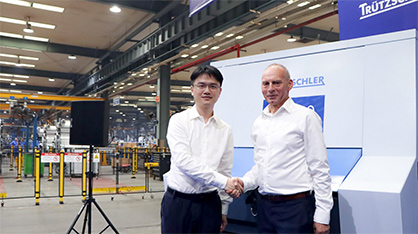 Shen Yaohua joined Harald Schoepp to officially unveil the carding machine. © 2023 Trützschler
A positive path ahead

This special event in Shanghai was celebrated in a spirit of close collaboration – and with a strong sense of optimism. Representatives from TTMS and its partners from across the Chinese textiles industry expressed a positive outlook for the future of this dynamic and growing market. Together, they are now striving to push beyond this important milestone and keep forward on the path to shared success in the years ahead.

Related News
More News from Truetzschler GmbH & Co. KG

Latest News