Nonwovens / Technical Textiles
2014-05-30
Zimmer at TTNA: Very productive 3 days with COLARIS-NF live demonstration!

Texnology's Sales Director Paolo Olivo (center) meets with customers at the Zimmer booth (c) 2014 Zimmer America
Zimmer America & Zimmer Austria had a very successful exhibition! Representatives of Zimmer's principals made their way to Atlanta to show off their technology. The Zimmer Austria COLARIS-NF for narrow fabrics, live in production, generated a lot of buzz at the booth and engaged many interested customers. The sales team wrapped up the conference with several new and exciting projects to work on.
Zimmer Austria has been developing and producing textile and carpet equipment for generations. Zimmer Austria's product range includes coating, steaming, and drying equipment for textiles and carpet. Zimmer Austria also manufactures state-of-the-art carpet and textile digital printing machinery (digital printing systems, flat screen and rotary screen printing, coating, steaming, washing, and drying). The modular Colaris Inkjet Printing System COLARIS by Zimmer Austria is an extremely flexible machine, able to process any fabric from lightweight silk to heavy terry towels. Colaris is designed for highest printing quality with a capacity of several thousand square feet daily.
LACOM from Germany was also represented at the Zimmer booth. LACOM is the world leader in laminating and coating machines. Duplex laminating and coating machines for simultaneous laminating of three webs are also available. LACOM offers machines that operate via gravure roller, multi-roller, hotmelt, slot die, scatter coat, and dispersion coat to fit the needs of multiple industries, from automotive lining to packing tape.

Xetma Vollenweider (Germany) manufactures machines for Textile Finishing (also DRY mechanical finishing). Their product range includes machinery for:
Napping, Shearing, Sanding, Polishing, Combined Napping and Sanding, Tigering, Brush-Sueding, Brushing, Combined Brush-Sueding and Sanding, Cleaning, Carpet Shearing.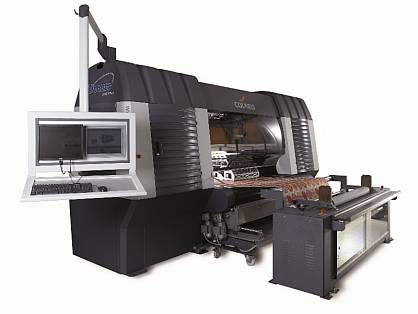 Pic: The Colaris-NF was on display at the conference and the demonstration machine drew quite a crowd.
And also Zimmer America Non-Woven Machinery had a very successful exhibition representing the Italian manufacturers TEXNOLOGY, BEMATIC and BOMBI! Both of BOMBI's and TEXNOLOGY's sales directors made their way to Atlanta to show off their machinery. The team generated a lot of buzz and engaged many interested customers, wrapping up the conference with several new projects to work on.
Zimmer America along with TEXNOLOGY and BEMATIC discussed their new technologies with potential customers.  These include:

The new ELLITTICA elliptical needle loom from TEXNOLOGY, capable of operating vertically or elliptically, steplessly adjustable. It is the only needle loom in the world with this feature making it a revolution in elliptical needling.
The direct needle line from BEMATIC and TEXNOLOGY, which consists of a BEMATIC Bemaformer web forming unit in combination a TEXNOLOGY ELLITTICA elliptical needle loom.
TEXNOLOGY's state-of-the-art showroom at the facility in Fontaniva, Italy, where a direct needle line is installed and available for trials with customer material. 
TEXNOLOGY's new SINTESI Crosslapper X-Series, a revolution in efficient crosslapping.
Texnology's new technology is now available for trials at their showroom in Italy!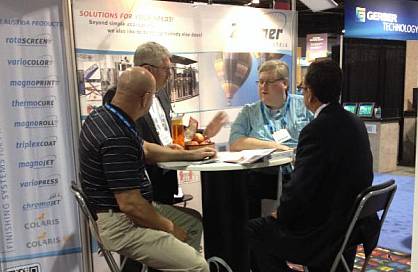 Pic: Roland Zimmer, CEO Zimmer America (left rear) and Bob Patterson, Sales Manager Zimmer America (right front) in customer meeting.
Related News
Latest News Nonwovens / Technical Textiles
More News from Zimmer AG

Latest News