Digital Printing
2017-03-16
Mountville Mills ordered one more CHROMOJET printer
In 2016, Mountville Mills continued the CHROMOJET experience by purchasing another CHROMOJET.PRINT LINE for unbacked Roll-to-Roll Carpet made of PES or PA carpet.
The print line is laid out to print on PES with high temperature fixation. It is also possible to print PA with saturated stream fixation. The maximum carpet width is 2200 mm (87 in.) and a line speed of 0.5 to 5 meters (0.5 to 5.4 yards) per minute at 76 dpi.
Mountville Mills is a leader in the production of floor mats, such as image mats, traditional mats, anti-fatigue mats, and specialty mats.
The CHROMOJET.TECHNOLOGY is based on ZIMMER AUSTRIA high speed valves and its application goes from velvet products to high-end contract carpets. ZIMMER AUSTRIA is a machine manufacturer for screen & digital printing machines for textile and carpet, specialized coating, digital functionalization, drying and steaming.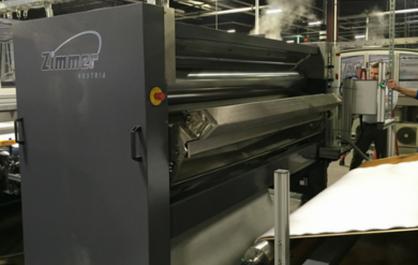 Pic:ZIMMER AUSTRIA CHROMOJET printer (c) 2017 ZIMMER AUSTRIA
Related News
More News from Zimmer AG

Latest News