Market Analysis & Forecasts
2023-09-21
Direct to Garment Printers Market Analysis, Trends, Growth Opportunities: Forecast, 2023-2030
Global direct to garment printer market was valued at US$ 810 million in 2022 and is expected to grow at a significant CAGR of over 8.3% over the forecast period of 2023-2030, according to the published market report by RationalStat
Global direct to garment printer market is expected to hit US$ 1,412.5 million by 2030, with an annual growth rate of more than 8.2% , according to RationalStat Report
Market Definition, Market Scope, and Report Overview4

Direct-to-Garment (DTG) printers are specialized printing machines designed for the direct printing of full-color, high-resolution designs, images, or graphics directly onto various textile and fabric surfaces, primarily garments like T-shirts, hoodies, and other apparel items.

Consumers increasingly seek personalized and customized products, including apparel. DTG printing allows businesses to offer on-demand customization, meeting this growing consumer demand for unique designs and personalized clothing items. DTG printing is well-suited for short-run and small-batch production. This flexibility appeals to businesses that want to test new designs, respond quickly to trends, or avoid the costs associated with mass production, thus contributing to the growth of direct to garment printer market.

• According to a deep-dive market assessment by RationalStat, the global direct to garment printer market has been analyzed on the basis of market segments, including type, production output, end user and geography/regions (including North America, Latin America, Western Europe, Eastern Europe, Middle East & Africa, and Asia Pacific). The report also offers global and regional market sizing for the historical period of 2019-2022 and the forecast period of 2023-2030.

• Market intelligence for the global direct to garment printers market covers market sizes on the basis of market value (US$/EUR Million) and volume (Units) by various products/services/equipment, demand assessment across the key regions, customer sentiments, price points, cost structures, margin analysis across the value chain, financial assessments, historical and forecast data, key developments across the industry, import-export data, trade overview, components market by leading companies, etc.

• In addition, the long-term sector and products/services 10-year outlook and its implications on the global direct to garment printer market. It also includes the industry's current state – Production Levels, Capacity Utilization, Tech quotient, etc. Key information will be manufacturing capacity by country, installed base, import volumes, market size, key players, market size, dynamics, market data, insights, etc.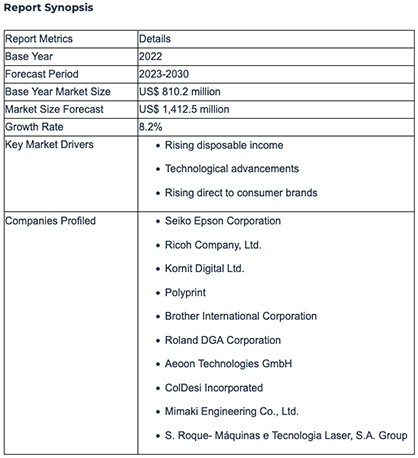 Global Direct to Garment Printers Market: Segmental and Market Share Analysis

• On the basis of type, the direct to garment printer market is sub-segmented into desktop and industrial direct to garment printer.

• On the basis of production outpour (per hour), the market is sub-segmented into less than 90, 90 – 150, and more than 150.

• On the basis of end user, the market is sub-segmented into clothing & apparel, small-sized retailers, events, technical textiles, and others.

Competition Analysis and Market Structure

These players adopt various strategies in order to reinforce their market share and gain a competitive edge over other competitors in the market. Mergers & acquisitions, partnerships and collaborations, and product launches are some of the strategies followed by industry players. Some of the key developments in the global direct to garment printers market include,

• In June 2023, Epson launched hybrid SureColor® F2270 printer intended for both direct to film and direct to garment printing. The new printer is equipped with hybrid SureColor® F2270, UltraChrome® DG2 ink, and has multiple features including low maintenance, easy to use, among others.

• In April 2022, Ricoh introduced a new comprehensive printer intended for both direct to garment and direct to film printing.

Some of the prominent players and suppliers operating and contributing significantly to the global direct to garment printers market growth include Seiko Epson Corporation, Ricoh Company, Ltd., Kornit Digital Ltd., Polyprint, Brother International Corporation, Roland DGA Corporation, Aeoon Technologies GmbH, ColDesi Incorporated, Mimaki Engineering Co., Ltd., S. Roque- Máquinas e Tecnologia Laser, and S.A. Group, among others.

RationalStat has segmented the global direct to garment printers market based on type, production output, end user and region

• Global Direct to Garment Printers Market Value (US$ Million), Volume (Units), and Market Share (2019-2030) Analysis by Type

- Desktop direct to garment printers

- Industrial direct to garment printers

• Global Direct to Garment Printers Market Value (US$ Million), Volume (Units), and Market Share (2019-2030) Analysis by Production Output (per hour)

- Less than 90

- 90 – 150

- More than 150

• Global Direct to Garment Printers Market Value (US$ Million), Volume (Units), and Market Share (2019-2030) Analysis by End User

- Clothing & Apparels

- Small Size Retailers

- Events

- Technical Textiles

- Others

• Global Direct to Garment Printers Market Value (US$ Million), Volume (Units), and Market Share (2019-2030) Analysis by Region

- North America Direct to Garment Printers Market

- US

- Canada

- Latin America Direct to Garment Printers Market

- Brazil

- Mexico

- Rest of Latin America

- Western Europe Direct to Garment Printers Market

- Germany

- UK

- France

- Spain

- Italy

- Benelux

- Nordic

- Rest of Western Europe

- Eastern Europe Direct to Garment Printers Market

- Russia

- Poland

- Hungary

- Other CIS Countries

- Rest of Eastern Europe

- Asia Pacific Direct to Garment Printers Market

- China

- Japan

- India

- South Korea

- Australia

- ASEAN

- Indonesia

- Thailand

- Philippines

- Vietnam

- Malaysia

- Rest of ASEAN

- Rest of Asia Pacific

- Middle East & Africa Direct to Garment Printers Market

- GCC

- Saudi Arabia (KSA)

- United Arab Emirates (UAE)

- Rest of the GCC

- South Africa

- Nigeria

- Turkey

- Rest of the Middle East & Africa

For more information about this report:
https://store.rationalstat.com/store/global-direct-to-garment-printers-market/#tab-ux_global_tab
Related News
Latest News Market Analysis & Forecasts
More News from TEXDATA International

Latest News