Market Analysis & Forecasts
2023-09-14
Top 250 fashion & beauty retail Europe: Annual ranking
Cross-Border Commerce Europe, the platform dedicated to fostering cross-border e-commerce in Europe, has published a significant research paper that ranks the top online fashion & beauty retailers and marketplaces across the continent.
Cross-Border Commerce Europe has released the second edition of "Top 250 Fashion & Beauty Retail Europe", an annual ranking highlighting the online fashion & beauty sector as a leading segment in online retail.
The EU's online fashion & beauty market achieved a turnover of €122B in 2022 (from which €45B cross-border) and is projected to reach €144B by 2026, marking an 18% growth. This upward trajectory is supported by the presence of C2C marketplaces that offer sustainable second-hand fashion and resale options.

Inflationary pressures and supply chain disruptions stemming from geopolitical instability, particularly due to the Ukrainian war, are progressively influencing customer shopping behaviours. Escalating inflation leads to reduced disposable income for consumers, prompting them to prioritise essential purchases and curtail their fashion & beauty consumption.

The stabilisation of the fashion sector in 2022 underscores the impact of inflation on fashion consumption. The growing market for second-hand fashion, bolstered by C2C resale marketplaces, holds promise. It is anticipated that nearly one-sixth of online fashion sales in 2026 will originate from C2C resale platforms. The twin factors of cost efficiency and sustainability are driving consumer interest in second-hand fashion.

The online fashion & beauty market is poised for continuous growth over the next five years.

The total EU online retail B2C market amounted to €729B in 2022, with fashion & beauty accounting for 17% of this sum. In 2022, the total online EU fashion turnover reached €122B, constituting a market share of 25% within the overall fashion & beauty market worth €486B. It is anticipated that over a quarter of fashion & beauty trade will be conducted online by 2026.

Although the online fashion and beauty market share is projected to expand modestly from 25% to 28% in 2026, this growth is impacted by the prevailing challenges posed by inflation. However, the trends of sustainability and digitization are poised to drive the expansion of the fashion trade. Emerging trends such as the metaverse, livestream shopping, personalisation, and second-hand fashion are expected to bolster the growth of the fashion & beauty industry. The influence of these trends on accelerating online fashion sales in the coming years will be fascinating to observe.

Marketplaces play a significant role in driving online fashion & beauty trade, accounting for nearly half of all online fashion transactions. Driven by economic and sustainability considerations, the C2C resale business is expanding, contributing to 12% of online fashion trade. This portion is projected to grow further, potentially representing close to 1/6 of total online fashion sales by 2026. A substantial portion of the marketplace Gross Merchandise Volume (GMV) can be attributed to the C2C resale business. By 2026, it is anticipated that approximately 1/3 of marketplace GMV will be attributed to the C2C resale business.

TOP 250 Cross-Border Fashion & Beauty Retailers and Marketplaces

The Top 250 ranking unveils the pivotal players in the fashion & beauty sector, operating across borders in 30 EU countries (EU27+UK+CH+NO) through online platforms, predominantly B2C and C2C sellers, while excluding B2B sellers. The leading cross-border fashion key players include Amazon, Zalando, eBay, AliExpress, and Etsy. An intriguing discovery is that, apart from Zalando, the other Top 5 players are mass merchants who have achieved remarkable success in the fashion domain. Although Amazon secures the top position in the cross-border e-ranking, Zalando commands a larger online fashion market share (9.8%) compared to Amazon (8.3%). Due to its robust performance in its home country of Germany in contrast to other cross-border countries, Zalando's ranking is lower than Amazon's, which boasts a more dominant cross-border presence.

The Top 10 EU cross-border fashion companies collectively hold over one-third of the online fashion market share (33.84%). Categorising the Top 250 based on business sectors highlights Nike as the premier brand manufacturer, H&M as the foremost retailer, Amazon as the leading pure player, and EMP (Exclusive Merchandise Products) as the top mail order business. Moreover, when these 250 companies are classified by their dominant product categories, Zalando ranks first in the fashion product category, while Notino claims the top spot in the beauty product category.

Additionally, the rankings of the Top 10 key players across different business sectors underscore the predominance of European companies in the retailer's category. Conversely, US-based companies are prominent in both the brand manufacturers and pure players categories.

The Top 250 companies are divided equally between public and privately owned holding companies. However, within the Top 10 holding company list, seven publicly owned holding companies take the lead, underscoring the supremacy of publicly held entities in the fashion sector. These publicly held companies appear to be achieving greater success in comparison to their privately held counterparts.

Moving to the fashion marketplace list, Zalando emerges as the premier fashion marketplace, while Sephora takes the lead as the top beauty marketplace. The rapidly advancing C2C resale marketplaces, such as Vinted, are showcasing substantial growth, capturing a notable 1.94% share of the online fashion market, and foreseeing further expansion in this domain. Other promising contenders within the C2C resale marketplaces category include Taobao, Vestiaire Collective, Grailed, and Poshmark. eBay and Etsy, operating with both B2C and C2C models, also stand out for their commendable contributions, securing a place within the Top 5 EU cross-border fashion companies list.

Further analysis of the popularity of companies in specific countries such as the United Kingdom, France and Germany reveals intriguing patterns. Among British consumers, American and Chinese companies appear highly favoured. Conversely, German, and French consumers exhibit a stronger preference for European companies, as evidenced by the fact that 8 out of 10 most popular companies are Europe-based in Germany, and 9 out of 10 in France.

Fast Fashion

In 2023, two new contenders emerged alongside Zara and H&M, posing a direct challenge to Shein.

• CIDER is poised to reshape the future of fast fashion. Launched in September 2020, CIDER is a Chinese fast-fashion brand with a primary focus on Gen-Z consumers.

• TEMU (tee-moo) operates as an online marketplace, connecting consumers with countless sellers, manufacturers, and brands globally. TEMU's mission is to empower individuals to lead their best lives through affordable, quality products, fostering an inclusive environment. The platform offers heavily discounted goods, primarily shipped directly from China. It's owned by Pinduoduo Holdings Inc. (PDD), underscoring its commitment to delivering value and innovation.
Top 5 Cross-Border Sport Fashion Brands

A significant portion of the European population actively engages in exercises, cycling, and various sports activities, leading to an escalating demand for sport fashion products. Within the Top 250 fashion retailers list, the leading sport fashion players are Nike, Adidas, Converse, Asics, and Salomon. Additionally, New Balance, Puma, Under Armour, and Reebok also hold strong positions in the sport fashion sector. Nike, as a prominent sport fashion brand, secures the top spot as a brand manufacturer in the Top 250 list, confirming the popularity of sport fashion brands within the fashion industry.

Major names in the sports fashion realm, such as Nike and Under Armour, are leveraging AI technology to conceptualise, prototype, and test various functional gear for diverse scenarios. Other cutting-edge technologies incorporated by sports brands encompass fast-dry capabilities, thermal jackets for extreme weather conditions, and compression apparels designed to promote effective blood circulation. The trend of sport fashion in EU countries is anticipated to grow further, enticing consumers to shift away from loose t-shirts and sweatpants, opting instead for more appealing and functional sportswear.

"As fashion & beauty leads the online cross-border retail market, I extend my gratitude to our dedicated market research team for producing the second edition of the 'TOP 250 Fashion & Beauty Retail Europe' report. This report enhances transparency within the European online fashion & beauty sector and fosters cross-border growth across the entire industry," concludes Carine Moitier, Founder of CBCommerce.EU.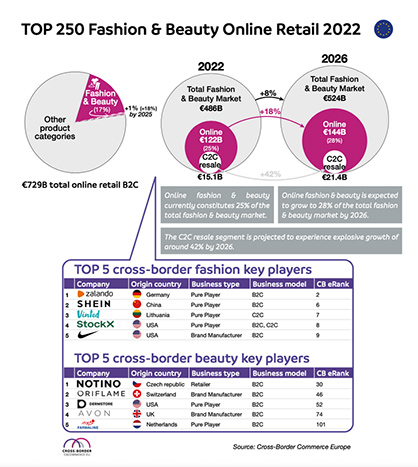 Related News
Latest News Market Analysis & Forecasts
More News from TEXDATA International

Latest News