Knitting & Hosiery
2023-07-27
SHIMA SEIKI launches SHIMA HelpCenter
Leading flat knitting solutions provider SHIMA SEIKI MFG., LTD. of Wakayama, Japan has launched its "SHIMA HelpCenter" customer support site. SHIMA HelpCenter integrates Help, FAQ, Operation Manual, and Glossary functions for SHIMA SEIKI products, and supports cross-content keyword search to improve user convenience. In addition, video content provides easy-to-understand explanations of various product functions, as smart solutions to questions and problems that may arise during product use.
With support for smartphones and tablets, our product users can use the service anytime, anywhere. Operation manuals that were previously provided in printed form are being converted to the online version in order to provide services more efficiently in an environmentally friendly, sustainable, and convenient manner.

To use SHIMA HelpCenter, registration for a SHIMA SEIKI Online Services (SHIMA online) account is required. SHIMA online is a web service platform which features "APEXFiz®" design software subscription service, "yarnbank®" digital yarn sourcing service, "SHIMA Datamall™" digital content service, "SHIMANAVI®" e-learning system and "SHIMA KnitManager™" knit production management software, all of which are designed to improve operational efficiency and create attractive and sustainable products. With a SHIMA online account, both SHIMA HelpCenter and SHIMA Datamall can be accessed using the same ID.
http://helpcenter.shimaseiki.com/en/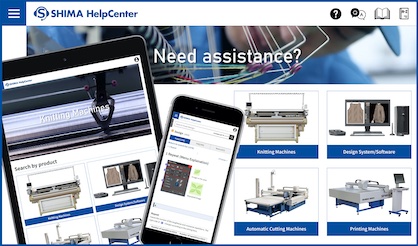 SHIMASEIKI Help Center (c) 2023 SHIMASEIKI
Related News
Latest News Knitting & Hosiery
More News from Shima Seiki MFG., Ltd.

Latest News