Knitting & Hosiery
2023-07-27
The KARL MAYER GROUP receives a business delegation from Jinjiang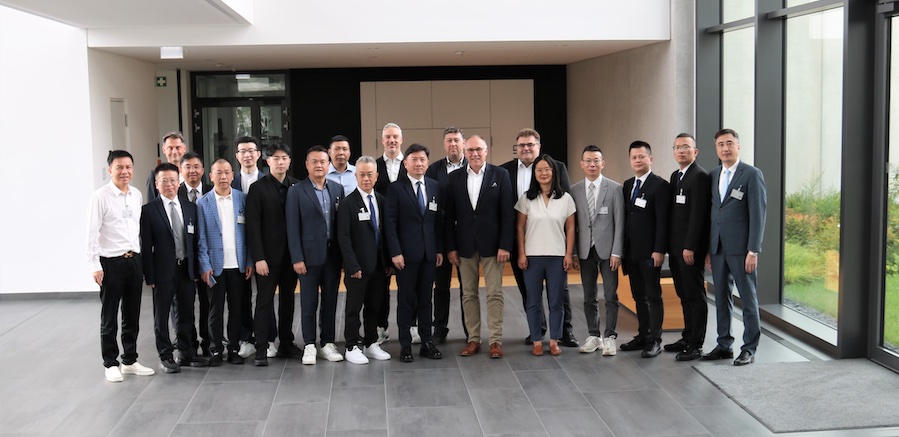 A visit to the industry leader - The KARL MAYER GROUP receives a business delegation from Jinjiang, a city in Fujian province (c) KARL MAYER
China is an important market for the KARL MAYER GROUP. The global player has maintained close business relations with this high-consumption country in East Asia for a long time. Only on July 24, a delegation from Jinjiang, the brand capital of China, visited the group's headquarters in Obertshausen.
Representatives of the regional authorities and successful companies in the textile and apparel industry were received. This industry, rich in tradition, makes the largest contribution to the city's budget. The companies represented in the tour group alone generate around 50% of Jinjiang's gross domestic product. Among the guests from the business world were warp knitting, knitting and weaving companies, but also leather goods and shoe manufacturers as well as brands from the sports sector such as 361° or Anta and from the clothing sector, for example LILANZ or Septwolves for menswear.

There was a correspondingly high level of interest in the program of visits: immediately after the reception, there was a small but excellent insight into the world of applications for the products of KARL MAYER GROUP machines. The innovative solutions for sports shoes were a particular highlight. In addition, the hosts, headed by CEO Arno Gärtner, exchanged ideas with the visitors about cooperation opportunities. The KARL MAYER GROUP has always been committed to being close to its customers. If the market demands it, the company is looking forward to being able to build on Jinjiang's locational advantages, says Arno Gärtner.
This is not an unrealistic scenario. In the Chinese textile industry, warp knitting is a comparatively young technology, having been established about 30 years ago, but it has great potential, explained Wenxin Ke, Chairman of Huayu Weaving Co., Ltd. Especially in terms of sustainability, warp knitting offers advantages over weaving in many applications, as became clear during the discussion. Furthermore, technological pioneering solutions have made China great. Their promotion has always been on the agenda of the Chinese government. A look at the KARL MAYER GROUP's development center showed the delegation what best-in-class technology can look like.
The informative and cordial get-together ended with a return invitation to Jinjiang and many new impressions and impulses on both sides.

Related News
Latest News Knitting & Hosiery
More News from

Latest News