India ITME 2016
2016-11-10
Savio comes with full commitment to the Indian Textile industry to ITME

Savio Eco PulsarS comes with a sustainable eco-green advantage (c) 2016 Savio
The India International Textile Machinery Exhibition Society (India ITME Society) holds every 4 years ITME exhibition, a global platform for exhibitors to showcase their products and disseminate information on innovative technologies. Thus, the Indian ITME exhibition becomes a catalyst for progress and growth of the textile engineering industry, textile professionals, textile technologists, and consumers.
India is ranked in the top five export markets of Savio, so the attendance at ITME is meant at massive level for being closer to the important customers, who are interested in Savio machinery for either their green field or expansion projects.
Savio will exhibit in Mumbai breakthrough innovations both in winding and twisting segment.
The latest innovation, Eco PulsarS winding machine, will be displayed for the first time to the Indian market, after the launch in Milan last year and the roadshow in Turkey and China.
There are important Savio's products on display at Itme, all representing high-end and niche products with important technological content:

Eco PulsarS winding machine, latest model with sustainable eco-green advantage;
Sirius TFO twisting machine, the worldwide flagship in high-end TFO segment.
Eco PulsarS, with its sustainable eco-green advantage, replies to the market demand of energy saving, including also room air conditioning, together with improved production performances, high quality packages and utmost flexibility. The combination of all new features and design has created an environment in which each part of the machine can operate at its optimum level and without limitations.
Spindles and bobbins feeding systems set independently the level of suction required. Suction is generated as needed and used without losses. The new Controlled Cut System, Yarn Tension Control System, Waste Collection&Separation System and Upgraded Splicing Solutions, each contributing to the overall reduction of the process downtimes.
Benefits:

EcoPulsarS with its innovative platform can save up to 30% power bill thanks to "Suction on Demand" system
New Controlled Cut System to reduce repetitions
New Yarn Tension Control System
Innovative Waste Collection & Separation system to reduce and recycle yarn waste
Friendlier to the user: machine control and diagnostics
SIRIUS TFO twisting machine responds to the demands of customers looking for a significant reduction in labor and energy. Besides the demand to sustain low investment costs and lower energy consumption, the customers also take on great importance time and cost of maintenance.
This new model foresees a high structural standardization, a wide range both for feeding and spindle dimensions for every yarn type and count, electronic solutions to simplify the operator intervention and reduce the maintenance workforce. The Electronic Drive System (EDS) version differs from the mechanical version for the full flexibility of setting adjustments. The Sirius EDS model is equipped with independent inverters and motors, which allow setting all processing parameters by the machine PC.
Benefits:

Widest range of feeding solutions.
Great selection of optional, covering all needs.
E.D.S. (Electronic Drive System) and Inverter solutions to minimize setting downtime and enhance flexibility.
Two-for-one twisting and precision winding in one solution.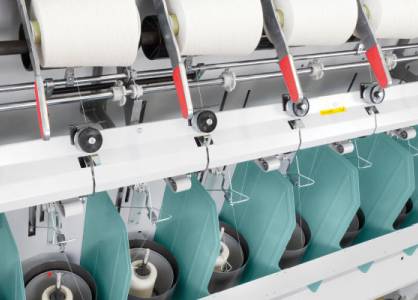 Pic: SIRIUS TFO twisting machine
Related News
Latest News India ITME 2016
More News from Savio Macchine Tessili S.p.A.

Latest News