ITMA 2023
2023-08-03
ITMA 2023: The secret of Biancalani's success

© 2023 Biancalani
The ITMA 2023 trade fair ended recently, and it was a real success for Biancalani Textile Machinery.
After the past edition in Barcelona in 2019, the quadrennial exhibition was held in Milan from 8 to 14 June and had a great international appeal. Several editions were held between Italy and Spain while the next European event will be in Hannover, Germany, in 2027.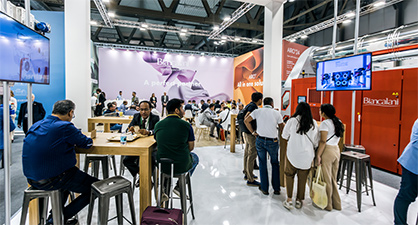 © 2023 Biancalani
This edition had a large number of visitors:
111,000 people from 143 countries around the world and 1709 exhibitors who arrive from 47 states covering an exhibition space of more than 200,000 square meters. ITMA has always been the global benchmark in the textile field for innovations and new technologies, and even this edition satisfied all the most demanding visitors.

Textile machinery quality and style innovations were presented to textile industry insiders, and Biancalani met with more than 300 companies including potential and existing customers. It was the high quality of Biancalani's technological offerings that most attracted companies from textile industry experts interested in the Prato-based company's stand.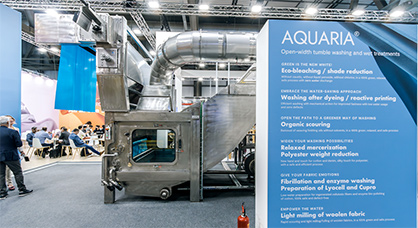 © 2023 Biancalani
A strong incentive was provided by the constant traditional and online promotional work done by Biancalani in the preceding months. This information work raised the awareness of client companies from all over the world to attend the important kermesse in order to meet, exchange ideas and to develop projects for the future together. During ITMA 2023 the innovations presented to the textile market by this important Italian company are very interesting.
Biancalani, has confirmed itself as a market leader specializing in sustainable textile finishing machinery whose strength lies in its experience of more than 60 years, as well as its propensity for innovation, for the development of machinery that is often revolutionary that meets and frequently anticipates new market needs.

The company's goal has always been to offer its customers the best quality of machinery and processes allowing special processing that can give great added value to their textile products, as well as to be competitive in the market and allow them to test all possible innovations in their textile field. This time, too, the goal was achieved thanks to the machines presented at the fair: one with completely new technical solutions and another that is Biancalani's best seller with a great innovation.

AQUARIA® was presented four years ago at ITMA Barcelona and was a validation from the point of view of both technicians' interest and sustainability. The trade show motto for Biancalani was "We are open", and AQUARIA® represented the slogan perfectly, being an th washing range that is used in both cellulosics (i.e., cottons, polyester/modal for cupro effect, terry, etc. ), denim (for the AQUAFIX and AQUASTONE treatments, that help to cut down cost and save time of subsequent washes and thus save a great amount of water), and for the ECO-BLEACHING treatment, which is an extremely interesting and sustainable alternative to traditional bleaching, both ecologically and economically. In fact, it is possible to do bleaching in a totally green mode with no extra cost.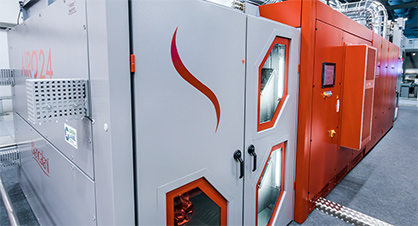 © 2023 Biancalani
The great water saving - Zero Water - is enabled by the almost total optimization and recycling of rinse water. So, the water consumption of the washing process corresponds almost exactly to the pick-up that remains on the fabric as it exits the line.
Also AIRO®-24 Duetto had a great success, continuous open-width tumbler, for its incredible combination of very high production capacity (practically twice as high as a standard Biancalani tumbler), without compromising the level of quality to which customers of Biancalani machines are used, and extremely small dimensions. One of the features that appealed most to the public who visited the fair in Milan is the convenience of having the entrance and exit on the same side of the machine for additional space savings that are contained besides the double production capacity: there are as many as two AIRO®-24 tumblers in the same space as one.

Even machines not physically exposed at the fair received a lot of attention: in particular AIRBOX,a continuous open-width and versatile drying unit the perfect partner for all types of dryers, now also available in versions with multiple drying sections to offer high evaporation capacities and with high energy efficiency, no tension, in little space.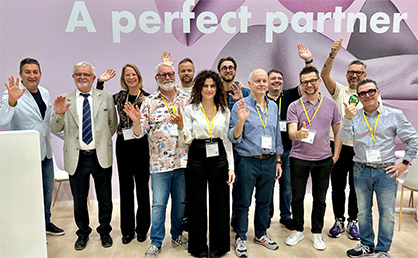 © 2023 Biancalani
Potential and existing customers came to visit Biancalani from all over the world, and in order of interest the main countries were: India, Turkey, Pakistan, Brazil, Italy, Egypt and the United States. However, for each country the assistance and presence of the exclusive local agents who look after the company's interests, both on the sales and service aspects, has been invaluable, with a great satisfaction of the users.
In addition to the machines and ranges sold there were many serious contacts which sealed important agreements that had been lacking during the pandemic and are now already giving financial confirmation for new projects. The potential turnover of projects generated during ITMA 2023 in Milan at the Biancalani stand is about 15 million euros in contracts.

A great success not only from a numerical point of view but also from a human perspective: The forced distance was filled by confirmed agreements, handshakes and free exchanges of opinions, to get back to the missed normality and to mutual trust. All this physical and emotional movement contributed to the enthusiasm that Biancalani will bring to his headquarters and also to the upcoming ITMA Asia + CITME event in Shanghai, next November and ITME Africa & Middle East in November/December.

During such an important trade show the human contact and the exchange of ideas are lifeblood and source of energy for the company and its research and development staff, and they also give great help in finding information and giving rise to important and innovative projects for Biancalani's future and to grow, at the same time, the relationship with customers and their businesses.
Related News
More News from TEXDATA International

Latest News