ITMA 2023
2023-05-25
TOLKAR to change the atmosphere of ITMA 2023 with ozone technology

© 2023 TOLKAR
TOLKAR, developing sustainable technologies for textile dyeing, washing and finishing processes, will present a new vision to the global industry at ITMA 2023.
TOLKAR, operating in the global market with its laundry and textile finishing machines that stand out with their technological, economical and eco-friendly features, will meet its visitors at ITMA 2023, to be held in Milan on June 8-14, with its textile dyeing, stone washing, denim washing and jeans washing products. The company, exporting its products to more than 40 countries and also distributing the world's leading brands in its field such as COLMAC, SPEED QUEEN, BIKO, RENZACCI, will exhibit sustainable textile dyeing and sustainable washing and finishing solutions with ozone technology at booth E205-E206 in Hall 9. TOLKAR will also launch its data processing and visualization system for performance measurement for customers and performance reporting system for managers at its 300 m2 booth, where Full Smartex washing models and its own branded machines will be featured.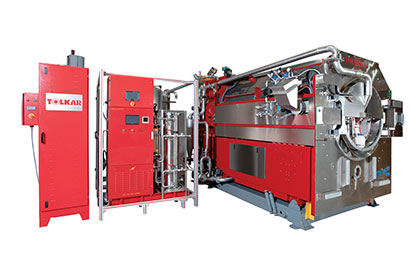 TOLKAR Smartex Miracle 500 kg allinone-washer extractor © 2023 TOLKAR
TOLKAR Board Member Ata Karace, explaining their expectations for ITMA 2023, stated that although they are located in strong textile markets, their production volumes have decreased to a certain extent due to the decreasing orders after the pandemic in these regions. Saying that there has been an increase in demand in hotels and accommodation facilities due to the revival in tourism and therefore, they can easily adapt to changing conditions, Karace continued his words as follows: "We look forward to meeting our existing customers as well as new ones at ITMA. We welcome all visitors looking for sustainable production solutions to our booth to see our Smartex washing and dyeing machines that reduce natural resource consumption rates by half and our eco-friendly ozone technology products."

Ozone technology makes textile washing more sustainable

Ata Karace, reminding that the environmental footprint of textile production is very high today, emphasized the importance of ozone technology, which is of great importance in protecting water resources in this regard. Stating that when a sustainable production is provided with ozone instead of dyeing and washing garments, products with much less carbon footprint can be produced, Karace said: "Since 2013, TOLKAR started to develop ozone gas washing systems in the textile finishing sector, which was initiated in order to consume much less water, the world's most valuable resource, and to eliminate heavy chemical wastes left to nature. Today, by dissolving ozone gas in water, we have managed to both shorten the process time and obtain clean water at the end of the process with much less water in textile washing steps. Thanks to this method, we have also eliminated the need for many heavy chemicals used in finishing processes."
Karace noted that they have become the only company in the world that can produce 400 G spinning machines of any capacity thanks to SMARTEX and its 'Smart Balancing System', which they acquired with their patented technologies in 2008 and disclosed: "Thanks to the SMARTEX PolyRib ECO Drum system, we have managed to reduce water, chemical and energy consumption by half with MIRACLE, which is a first in the world, and we have created a revolution in this field by adding a new one to our technological developments with the production of Gas Heated Washing machines."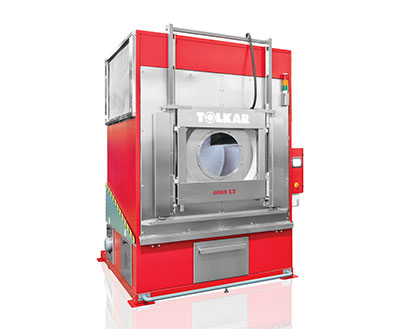 TOLKAR Carina 4069 industrial clothes drying machine © 2023 TOLKAR
Karace, saying that Smartex, which has half the water and all other consumption values compared to industrial type conventional machines, is the right solution for eco-friendly manufacturers, explained: "Thanks to Smartex washing models, textile manufacturers can produce products with a low carbon footprint. For example, thanks to the Smart Flow Nano Bubble system, some chemical washes can be done almost without using water and zero waste is achieved." Stating that they aim to create products that will make a difference in technological, ecological and economic terms with the projects they carry out in their R&D centers in this context, Karace said that they continue to work to respond to market demands in production facilities where the latest production techniques, production machines and robotic tools with laser welding systems are used and that their goal is to reduce chemical consumption with ozone as much as possible for a better future.
Related News
More News from TEXDATA International

Latest News