INDIA ITME 2022
2021-08-19
S. Hari Shankar, Chairman of India International Textile Machinery Exhibitions Society, comments in detail on the postponement
On June 28, the INDIA ITME organization decided to postpone the exhibition, which had already been postponed from 2020 to 2021, again to next year in view of the still existing COVID-19 pandemic. Now Mr. S. Hari Shankar, Chairman of the India International Textile Machinery Exhibitions Society, comments in detail on the circumstances and further planning in a letter to exhibitors and guests.
We publish this message in the wording:

"Dear Friends and colleagues from industry,
Greetings to you and hope this letter finds you in good health and spirits.
We regret to inform you that the India ITME exhibition scheduled for December 2021 had to be postponed again to December 2022 due to the continued uncertainty brought about by the global pandemic.
At the present time, live exhibitions and large gatherings continue to present a monumental challenge. ITME society believes that a proper event should justify the time and resources, especially since the India ITME flagship event is the primary business event for the Indian Textile industry providing a one stop solution for trade, Joint ventures, technology transfer and investments connecting textile businesses from over 90 countries with India.
We are very hopeful that a large-scale global vaccination drive that's ongoing will allow a return to normalcy by 2022. The situation will presumably be less intimidating by then to allow participants to partake in our flagship event.
India's textile industry has been impacted with the uncertainties and challenges created by the ongoing Pandemic. Uncertainty in terms of Supply chain disruptions, logistics issues, raw material costs shooting up due to the fluctuating demand and supply conditions, mandatory closures in retail stores etc etc., In brief, the entire textile chain has been disrupted.
Despite the setbacks, I am committed to take swift measures to address the promising potential in our industry. In such trying times, the India ITME society stands steadfast in its commitment to the Textile Engineering industry. ITME society is cognizant of its responsibility and has committed to amplifying its efforts to enable our exhibitors to reach out to potential customers. With over 40 years of dedication to serving the Indian Textile Industry, the ITME society's support is irrefragably a positive sign for its participants and patrons.
In order to do so, India ITME Society will continue organizing virtual substitutes for our exhibition series of events to maintain and forge new business relationships. Life must move forward with the use of technology in these testing times.
We strive to encourage each other to work, network and consolidate the resilient operations we have established across the globe. We will continue to connect businesses to the global market, empowering business communities and also to reinforce the global textile network with fresh technical research, concepts and products.

I am pleased to inform you, that over the past 9 months India ITME Society has conducted the following events to create fresh networking opportunities and to impart technical knowledge.

# Buyer Seller Meet & Technical seminar – Dec 2020
# Textiles Exchange 2021 – April 2021
# Seminar on "The future of the Textile and apparel sector – An Indo-African perspective" – June 2020
# Webinar on "Designing for Impact: South-South trade and Investment – A tool for revitalizing the Global Economy Post Covid-19" – October 2020
In December 2020, we held a 3-day Virtual B2B event inaugurated by Ms. Roop Rashi Mahapatra, the Textile Commissioner of the Indian Government. On Day 1, Participants attended a webinar comprising of a technical paper report and a panel discussion between industry stalwarts. Days 2 and 3 included the main event: the buyer-seller meet with 284 exhibitors from 18 nations and 1767 buyers from 57 countries. A grand total of 4,192 business interactions.

In April 2021, along with the International Trade Center (ITC), a joint agency of the United Nations and the World Trade Organization, we held the 3- day "Textiles Exchange 2021". This facilitated more than 700 meetings between buyers and sellers. It was primarily organized for close to 250 African and Indian Textile businesses looking to maximize on trade partnerships and opportunities, following the guidelines of the Supporting Indian Trade and Investment in Africa (SITA) initiative.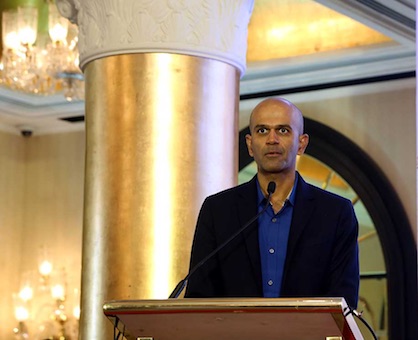 S. Hari Shankar, Chairman India International Textile Machinery Exhibitions Society (c) 2021 India ITME
These virtual business events enabled connectivity between parties across the entire globe from Singapore to the West Coast, USA. AI- matchmaking enabled the best matches based on participant profiles giving participants the opportunity for brand promotion. A big hit was the virtual networking lounge facilitating informal interactions.

For a robust future in our industry, strong education and exposure to the latest technology is absolutely vital. India ITME Society is committed to support, motivate and encourage the overall growth and prosperity of the textile industry for not just business houses but also for the future development of the talent pool. India ITME Society conducted a certified technology lecture by Prof. Dr.-Ing. Yves-Simon Gloy from Clemson University, Germany enabling students and academicians to update themselves on some of the latest topics and trends in Textiles.

Not to sit on our laurels, but we have more work charted out for the near future. Besides being alert to new opportunities, it is crucial to adapt and adopt the changes to stay on top of the game in order to have a competitive advantage. Through its various events and programs, ITME Society shall continue to diligently execute its responsibilities in supporting all round growth and success of Textiles & Textile engineering industry.

In the pipeline, we have planned interviews with the top brass of several textile companies. Through these interviews we hope to glean knowledge of their success in dealing with these uncertain times of the ongoing pandemic. It is an opportunity for both brand building and knowledge sharing.

Our industry works hard to produce and deploy it's many technologies and products – be it Spinning Machinery and accessories, Weaving looms, Jacquards, Knitting machines, dobbies, yarn trimmings, etc etc – Putting us on the path to a more sustainable and equitable future while creating thousands of jobs in the larger society. We do not want any of this hard work to get suspended or derailed in the uncertainty of the current global pandemic.

For ITME December 2022, we are committed to reducing the cost burden on exhibitors. We value your position and wish to create the conditions in which your success is ensured. At the end of the day, we can only hope that these platforms we have set up for you will help you achieve all your goals and ambitions.

Once we move past the ongoing crisis, combined with Government's efforts I am confident that India's diverse demography and infrastructure shall open up ample new opportunities for the country. India's strength in Manufacturing competency, Skilled manpower availability, uninterrupted supply chain, political stability, strong economic indicators, export potential etc., surely offers favourable conditions for India to be the "destination" for textiles and textile machinery manufacturers. All our efforts and decisions are to ensure a well-timed and fruitful event in Dec 2022 in India for our valued exhibitors and participants.

For the past 41 years, India ITME Society has been playing a pivotal role to strengthen the domestic as well as international Textile industry by facilitating the exchange of knowledge, technology transfer and joint ventures. We want to continue to be good stewards of the healthy industrial ecosystem in place, and to further nourish it, not only for generations to come, but also for nations and markets that need the anchor of our resources.

Together we keep moving forward!

Yours Sincerely,

S. Hari Shankar

Chairman
India International Textile Machinery Exhibitions Society"

Related News
Latest News INDIA ITME 2022
More News from India ITME Society

Latest News