INDIA ITME 2022
2022-12-21
First ITME since 2018 ends "satisfactorily" for Mayer & Cie.

The Batliboi and Mayer & Cie. team at ITME 2022. © 2022 Mayer&Cie
"We are satisfied with how the trade fair went," says Timo Schramm, area sales manager at Mayer & Cie. and responsible for India. "Of course, the uncertainties of the world situation are reflected in Indian demand for textile machinery in general, including circular knitting machines." Export demand has declined and domestic demand has also stagnated. However, local companies assume that demand will return to normal in the medium term, according to Schramm. The number of sales on the ITME also indicates this.
The ITME exhibition machine, an OVJA 2.4 E, met with interest among the visitors. Mayer & Cie. presented the machine at the stand of the Indian representative Batliboi, with whom the circular knitting machine manufacturer has been working for a long time. The machine, with a diameter of 38 inches, is aimed at manufacturers of mattress cover fabrics. Mayer & Cie. enjoys a good reputation in this segment.

In addition to this application, Mayer & Cie. is experiencing constant demand for its single jersey machines. "Single jersey with elastane and in open width are the common requirements"; Timo Schramm knows. These are fulfilled, for example, by the Relanit 3.2 HS and the circular knitting machines from the S4 series. In the double jersey segment, it is mainly the D 4 2.2 II in E 18 for rib and rib structures that are favoured. The D4 2.2 HPI high-performance machine for interlock fabrics is also popular in India.

Their efficiency speaks for all Mayer & Cie. machines. "The desire for sustainable solutions once again brings this feature of our machines, coupled with their long service life, into focus," says Timo Schramm confidently.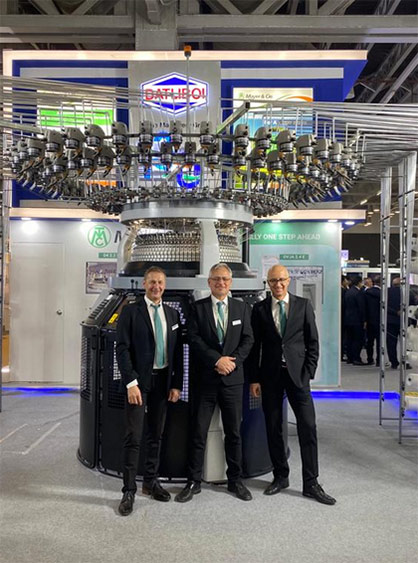 The Mayer & Cie. team in front of the OVJA 2.4 E at ITME 2022. © 2022 Mayer&Cie
Related News
Latest News INDIA ITME 2022
More News from Mayer & Cie. GmbH & Co.

Latest News