ITMA Asia + CITME 2024
2023-06-08
ITMA ASIA + CITME show owners extend cooperation to launch combined exhibition in Singapore

© 2023 ITMA ASIA + CITME
The show owners of ITMA ASIA + CITME have extended their collaboration to organise the combined textile machinery exhibition in a second Asian location. The combined exhibition has been held biennially in Shanghai since 2008.
Show owners - CEMATEX (the European Committee of Textile Machinery Manufacturers) and its Chinese partners comprising China Textile Machinery Association (CTMA) and the Sub-Council of Textile Industry, CCPIT (CCPIT-Tex) - have selected Singapore to host the exhibition in 2025.

ITMA ASIA + CITME, Singapore 2025 will be held at the Singapore Expo from 28 to 31 October 2025. It will be organised by ITMA Services and co-organised by Beijing Textile Machinery International Exhibition Co.

Mr Ernesto Maurer, President of CEMATEX, said: "We have successfully held seven editions of ITMA ASIA + CITME in Shanghai. As part of our strategy to support the aspirations of local manufacturers in South Asia, South East and the Middle East to modernise their operations, we are augmenting the series with a second location in Asia to better reach out to the textile hubs in these regions."

Mr Gu Ping, President of CTMA, said: "Asia is the world's biggest textile manufacturer and exporter. We are delighted to extend our cooperation with CEMATEX to bring ITMA ASIA and CITME to other parts of Asia to support our members' marketing efforts."

Billed as The Leading Textile Technology Exhibition Driving Regional Growth, ITMA ASIA + CITME, Singapore 2025 is expected to gross 60,000 square metres. It aims to attract over 700 exhibitors and a visitorship of 30,000.

Mr Maurer added: "Singapore is no stranger to hosting a huge textile machinery exhibition. ITMA ASIA was held in Singapore in 2001 and 2005 before it combined with CITME. We moved the exhibition to Shanghai to enable our members to take advantage of the buoyant textile sector in China after the country joined the World Trade Organisation in 2001."

A Vibrant Destination

Due to its world-class facilities and business-friendly environment, Singapore is an attractive destination for exhibitions and conferences.

Mr Charles Beauduin, Chairman of ITMA Services, explained: "Singapore is an attractive MICE destination and well connected to the growing textile hubs in South Asia and Southeast Asia, as well as the Middle East. Its extensive airlinks and visa-friendly policies make it an accessible destination for these visitors. The exhibition also requires robust infrastructural and technical facilities to support live machinery demonstrations, which Singapore's exhibition venue can provide."

The decision to host the second combined exhibition in the island republic is welcomed by the Singapore Tourism Board (STB).

Mr Yap Chin Siang, Deputy Chief Executive of STB, said: "We are pleased to host ITMA Asia + CITME for the first time in Singapore. ITMA Asia + CITME is an important Asian and global platform for growth, connectivity, and trade integration in the textile market. The choice of Singapore as host affirms our position as a global hub for MICE and business, where entrepreneurs and forward-thinking partners meet. We look forward to welcoming ITMA Asia + CITME participants to Singapore in 2025."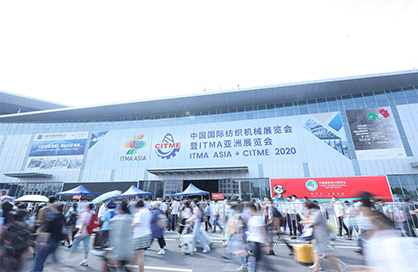 © 2023 ITMA ASIA + CITME
The upcoming ITMA ASIA + CITME exhibition will be held in Shanghai at the National Exhibition and Convention Centre from 19 to 23 November 2023. It was postponed from last year due to the pandemic. Grossing 160,000 square metres, the combined exhibition has, to date, attracted over 1,400 exhibitors.

The ITMA ASIA + CITME series will continue to be held biennially on even years in Shanghai. The 2024 combined exhibition will be held from 14 to 18 October 2024.
Related News
Latest News ITMA Asia + CITME 2024
More News from CEMATEX

Latest News