Denim
2017-09-01
DEN/IM 2.0: AN EVOLUTION IN DENIM
"Fit" in apparel is a noun, and for the human body, it's an adjective. The two meanings come together, seamlessly, in Den/IM 2.0: an innovation in athleisure that brings body-mapping technology to an already revolutionary denim jean.
The "I am DENIM" athleisure collection, made with stretch indigo denim on seamless circular knitting machines, debuted last year and has been embraced by consumers. Lenzing, Tonello, Santoni and Unitin partnered to create DEN/IM, a studio-to-street collection designed to show knit denim's potential as a viable alternative and competitor to traditional activewear bottoms and to classic woven denim.
In response to the ensuing demand within a fashion activewear market that continues to heat up, the companies have readied Den/IM 2.0. The new collection employs body-mapping for superior fit and performance, the efficiency of seamless knitting from Santoni, new sustainable wash treatments from Tonello and the advanced indigo knits from Unitin featuring Lenzing's TENCEL® lyocell branded fibers.
"At Tonello, we strongly believe in collaborations, especially when aimed at bringing truly innovative solutions to the market," says R&D Manager Alice Tonello.

"Combining our finishing technologies like ECOfree, Laser Blaze and Core, with the high-end products offered by Lenzing, Santoni and Unitin, we were able to achieve a brand-new product with technical performance and an authentic denim taste."

This collaboration from the beginning started with the idea that traditional sportswear—made with the cut and sew concept—couldn't provide the comfort expected by a certain kind of active fashionista. Dancing, skateboarding, strolling, rest — existence today means that activity and fashion are inseparable. The introverted morning in a cafe clad in classic denim jeans, alone with your laptop, doesn't preclude an exuberant afternoon walk on the beach, a commute by bicycle or dashing off to a party. That's just life — so why should it call for a change of clothes?
"Denim is a versatile partner to pair with anything and is a must-have in every season," says Tricia Carey, Director of Global Business Development – Denim at Lenzing.
Body-mapping seamless sportswear involves just one piece of multiple-knit structure fabric, which provides improved wear comfort by adjusting local body heat exchanges. It may be a quiet revolution — this evolution in denim simply allows life to go on no matter what you're up to — but it's a revolution just the same, made possible by the sophisticated machinery from Santoni, the innovations in garment processing from Unitin and Tonello, and the unsurpassed addition of TENCEL® branded lyocell fibers.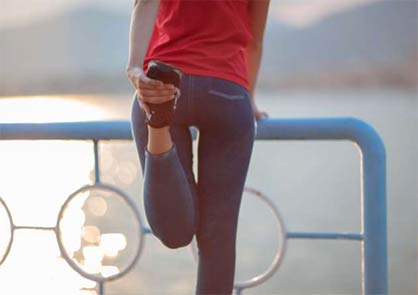 (c) 2017 Lonatigroup
"Associated with this collection you will hear terms such as 'compression,' 'ventilation,' 'moisture control,' 'thermal conductivity' and 'body mapping,' and these are used alongside traditional denim terms such as 'indigo shade,' 'fade-down' and 'laser marking,'" explained Patrick Silva, Santoni Marketing Manager. "With its roots in seamless sportswear, Santoni's knitting technologies are creating a new category in the constantly fragmenting athleisure wear market."
Here's how it works: Each knitted garment in the Den/IM 2.0 collection incorporates different combinations of fibers and knitted structures, to create a unique cross-over concept. It's all about integrating several sportswear benefits into the authentic denim world.
The seamless functional features of Den/IM 2.0 provide superior moisture wicking by incorporating TENCEL® in a unique two-layer construction. These high performance yarns provide superior temperature regulation and a perfect microclimate for the skin. Engineering seamless fabric thickness provides padding, allowing greater body protection without sacrificing moisture management or temperature regulation. Body-mapping ensures that the engineered ventilation areas and 3D knitted structures are where they're most needed in every garment.
The den/IM 2.0 collection will debut at BlueZone/Munich Fabric Start on September 5- 7thin Munich, Germany.

Related News
More News from Santoni S.p.A.

Latest News