Textiles & Apparel / Garment
2017-06-06
EURATEX released the bulletin no. 01/2017
The report analyses the 2016 EU external trade for the textile and clothing sector as well as the main EU suppliers and customers, evaluates the weight of regions and sectors in total EU trade and includes detailed tables and graphs for the 33 main EU trade partners.
China's share in EU imports declined further in 2016 to the benefit of South Asian countries

The leading position of China has continued to be eroded by the increasingly vigorous entry of other production zones. Mediterranean countries have experienced the same scenario as China between 2010 and 2015, but import shares have stabilised or even improved in 2016.

Undeniably, the main beneficiary was the SAARC zone, which has grown slowly but steadily since 2010. The ASEAN zone, a smaller area than SAARC, performed in a comparable way.

In 2016, these four zones accounted for over 86% of total extra-EU textile and clothing imports. EU-28 imports originating from these groupings primarily related to clothing goods.

Looking to products, China prevailed as the main supplier of woven garments. However, its share continued to decline to the benefit of South Asian and Mediterranean countries. Concerning imports of knitted garments, China was overtaken by the SAARC zone.

EU-28 exports struggled to grow in a difficult global economy and faced issues in maintaining market shares, principally in made up articles

Compared to last year, EU exports' shares remained stable for the four main defined country groupings: NAFTA, EFTA, the Mediterranean countries and the group of autonomous countries. These four groups accounted for 58% of extra-EU textile and clothing exports in 2016.

Woven fabrics were the major textiles exported by the EU. The NAFTA zone and the Mediterranean countries are the biggest purchasers of textile goods. While EFTA and NAFTA areas make up the two main buyers of clothing articles. However, in absolute value, there was little growth in EU exports to these two zones.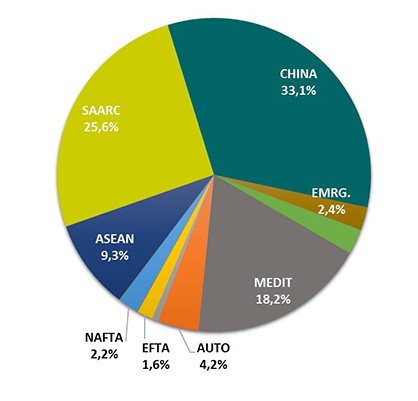 (c) 2017 EURATEX
*N.B.: The main country groupings included in this study were: ACP, EFTA (European Free Trade Association), NAFTA (North American Free Trade Agreement): USA, Canada, Mexico. ASEAN (Association of Southeast Asian Nations): Brunei, Cambodia, Indonesia, Laos, Malaysia, Myanmar, Philippines, Singapore, Thailand, Vietnam. AUTONOMOUS: Armenia, Azerbaijan, Belarus, Kazakhstan, Moldavia, Uzbekistan, Russia, Ukraine. MEDITERRANEAN: Algeria, Egypt, Israel, Jordan, Libya, Morocco, Syria, Tunisia, Turkey. MERCOSUR: Argentina, Brazil, Paraguay, Uruguay, Venezuela. EMERGING ASIAN COUNTRIES :(South Korea, Hong-Kong, Taiwan). SAARC (South Asian Association for Regional Cooperation): Bangladesh, India, Maldives, Nepal, Pakistan, Sri Lanka.

For more information and subscription: roberta.adinolfi@euratex.eu

Find the Bulletin No. 01/0217 summary at http://www.euratex.eu

Related News
Latest News Textiles & Apparel / Garment
More News from European Apparel and Textile Confederation (EURATEX)

Latest News