Textile chemistry
2015-04-23
Novozymes Q1 in line with expectations; 2015 outlook adjusted for currencies
Novozymes, the world's largest producer of industrial enzymes, today announced its first quarter results for 2015. Sales in the first quarter of 2015 grew by 8% organically and by 18% in DKK compared with Q1 2014. EBIT grew by 6%, and the EBIT margin was 27.4%.
Adjusting for the one-time impact from The BioAg Alliance in Q1 2014, EBIT grew by ~20%, and the EBIT margin expanded by ~1 percentage point compared with Q1 2014. The EBIT margin expansion was mainly due to currencies. Net profit grew by 2%, and free cash flow before acquisitions came in at DKK 610 million.
The 2015 outlook is adjusted for currencies only. Organic sales growth is expected at 7-9%. Currencies are expected to provide further tailwind, and sales in DKK are now expected to increase by 16-18% compared with 13-15% at previous guidance. The expectation for EBIT growth is increased by 3 percentage points to 15-17%, and the EBIT margin is adjusted to ~27%. The expectation for net profit growth is increased to 11-13%, up from 10-12%. Expectations for net investments, cash flow and ROIC are unchanged.
"First-quarter sales and earnings were good and, overall, in line with our expectations at 8% organic sales growth and an EBIT margin above 27%", says CEO Peder Holk Nielsen. "We see good developments within the agriculture and food markets but also detect a growing uncertainty in Household Care and Bioenergy, as customers navigate volatile currency, grain and energy markets. We're positive about the year as a whole and, due to the appreciation of the US dollar, we increase our outlook."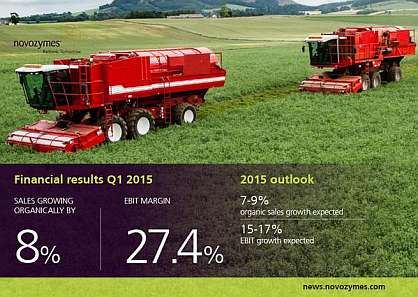 Pic: The results as a graphic
Related News
Latest News Textile chemistry
More News from Novozymes A/S

Latest News