Research & Development
2017-06-01
Dr. Timo Hammer is the new director of the WKI
Since 01.04.2017 there has been a new man at the head of the William-Küster Institute (WKI) for Hygiene, Environment and Medicine – otherwise known as the Institute for Life Science at Hohenstein´s Research and Service Centre. A natural scientist and Business Administration graduate, Dr. Timo Hammer has taken charge of the institute while additionally joining the Management Board of the Hohenstein Group.
A natural scientist and Business Administration graduate at the head of the Hohenstein Institute for Hygiene, Environment and Medicine
Combining a love of research with expertise in economics, putting into practice the link between business and applied science: this is the role of the institute. It brings together research and service, always revolving around the application-specific problems of its clients and aiming for optimum market positioning of their textile or textile-related products.
The research scientists and developers at WKI assist industry with a huge range of issues involving biological effectiveness and safety in the interaction of their products with man and the environment.
Examples of this work include odour management of clothing, insect protection – e.g. effectiveness against dust mites, moths or mosquitoes transmitting yellow fever – or antimicrobial finishes, which make a key contribution to preventing infection. Textiles are examined for their interaction with the skin, mucous membranes and skin flora of the wearer and their suitability for allergy sufferers evaluated. This is followed by further development in line with these results.
The William-Küster Institute performs numerous tests based on the relevant standards and also carries out certification, including for medical products. First and foremost however, it offers solutions tailored to each client that extend throughout the life cycle of the product – and sometimes even beyond. This includes market-oriented development of new products until ready for the market, sound market positioning, e.g. displaying one or more of Hohenstein's prestigious quality labels, continuous quality control and the verification of marketing claims. WKI also investigates the biodegradability of textiles once they can no longer be recycled. One possible test scenario is to bury the textile in the ground for controlled biodegradation. Testing then assesses its aerobic degradation by micro-organisms to then supply a complete sustainability profile for the product.
Thanks to its extensive interdisciplinary expertise WKI is also a competent partner for all aspects of hygiene management and monitoring, both in the public and private sector. In this function the institute is responsible for the regular inspection of locations such as care homes, hospitals, swimming baths or apartment buildings.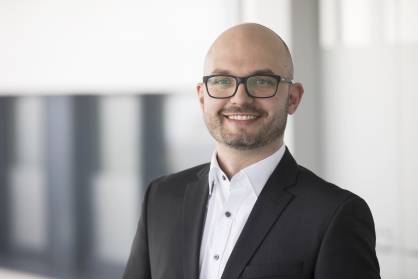 Pic: Dr. Timo Hammer Director of William-Küster Institut e(WKI) for Hygiene, Environment and Medicine © Hohenstein Group
Related News
Latest News Research & Development
More News from Hohenstein Institute

Latest News