ITMA-Asia + CITME-2014
2014-04-30
The Saurer premiere in Shanghai

Autocoro 8 comes with considerably more spinning positions (c) 2014 Saurer Schlafhorst
ITMA Asia in Shanghai will take place just before the "first birthday" of the new Saurer Group. This is the first time for the Group to gather all business units under the Saurer umbrella on one booth. On roughly 800 m2 in hall W02 / booth F01 Saurer will display novelties in all business Units.
They will show a new Zinser ring spinning frame and a new generation Schlafhorst BD rotor spinning machine, new features on our Schlafhorst winding and Saurer embroidery machines, a new product from the Jintan preparation side and as always, the components brands will display several new innovations. As a part of the Saurer philosophy of innovation and sustainability, Saurer has created a new label: E3 - the triple added value that will also be launched on ITMA Asia in Shanghai. 
The new Saurer Group is one of the world's largest textile machinery and component manufacturers, with sales around 1 billion Swiss francs and 3'800 employees. The group has nine locations in Germany, two in Switzerland and six in Asia, close to the main textile markets of the world. In the last 9 months since the separation from Oerlikon Group the new Saurer Group has been reorganizing itself and decentralized the organization. Result is only a small Corporate overhead and strong Business Units, enabling important decisions to be made close to the customer and implement fast. Furthermore, Saurer has launched a comprehensive program to increase Customer satisfaction, which already is bearing the first fruits. All in all Saurer is focusing on what is most important in the business: the customers. This is also clearly visible in the number of new machines, features and components Saurer is bringing to ITMA Asia in June.
Ground breaking innovations in productivity, product lifetime and service are borne out of the Group's passion for its products. With constant focus on customers' needs Saurer Group strives for excellence in all areas. As part of the philosophy of innovation and sustainability Saurer Group is proud to launch the new E3 label for Energy, Economics and Ergonomics and the ITMA Asia in Shanghai in June.
E³ – Triple added value. Saurer launches the new E³ label at ITMA Asia
Energy - One of the most important cost factors in the manufacturing industry today is the cost of energy. Therefore our customers rightly demand products with optimized energy consumption. 
Economics - Labor costs increase worldwide. To maximize our customers profitability, Saurer offers high quality, productivity enhancing machines with attractive automation options.
Ergonomics - How to optimize operating conditions of a machine and time needed for settings and adjustments. What is the ideal workflow?  These are all questions for which Saurer products provide the ideal solution.
Schlafhorst – Market and innovation leader.
Schlafhorst is presenting itself at ITMA Asia as a pacesetter for the industry. Both Autocoro and BD, rotor spinning machines from Schlafhorst are in a class of their own. The company's flagship, the
Autocoro 8, can now extend its profitability gains to considerably more spinning positions. With rotor speeds in practice that eclipse those achieved previously, and new automation solutions, the Autocoro 8 delivers sensational advances in productivity. The new BD generation increases economic efficiency and guarantees the best packages in the semi-automatic segment with new piecing technology.
Winding machines from Schlafhorst - Automation becomes more individual
Significant investment in automation is currently the cutting-edge topic in automatic package winding. Therefore Schlafhorst presents at the ITMA Asia + CITME the Autoconer X5, type V first time with the most intelligent material flow technology FlowShare FX. FlowShare FX is the optimum expansion for the previously tried and tested FX technologies for top package quality - Speedster FX, PreciFX, Autotense FX, Ecopack FX, Propack FX and Variopack FX - which will be also presented during the exhibition. With the modular Autoconer machine concept with individually configurable automation aggregates Schlafhorst offers made-to-measure solutions for customized process automation.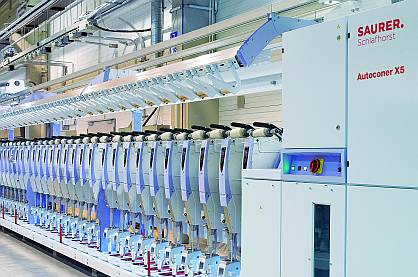 Pic: The Autoconer X5
Ring spinning machines from Schlafhorst - Groundbreaking high technology
The new ZinserImpact 72 will be presented to customers for the first time at ITMA Asia + CITME. The exhibition booth in Shanghai will feature the new ZinserImpact 72 compact spinning machine in a linked system with the Autoconer X5. The new ZinserImpact 72 is equipped with the world's most intelligent, self-cleaning compact technology Impact FX.
The Zinser family of short-staple ring spinning machines is rounded off by the new machine generation ZinserRing 72 and ZinserImpact 72.
They offer maximum production, durable yarn quality, a wide range of automation options and maximum profitability thanks to proven, highly regarded cutting-edge technology.
Schlafhorst Customer Support - A secure innovation path to the future.
Companies that purchase textile machines from Schlafhorst secure an economical innovation path to the future. The German textile machinery manufacturer implements technological innovations so that they can be retrofitted to existing machines. With its original parts, modernisation kits, technology kits and service kits, Schlafhorst assumes responsibility for innovation throughout the product life cycle and ensures that even customers with older machine generations always benefit from technological advances. With 20 service centres and three technology centres, Schlafhorst offers its customers dynamic customer support worldwide.
Allma Volkmann – Competence in twisting.
Allma and Volkmann with triple added value at ITMA Asia 2014.
Allma and Volkmann will be presenting innovative products and solutions for the sectors of staple fibre yarns, carpet yarns, tyre yarn, technical and glass filament yarns.
E³ – triple added value
E³ stands for Saurer's product philosophy with the concept of triple added value: energy, economics and ergonomics. Energy efficiency is an absolute must for every company. The twisting and cabling machines from Allma and Volkmann speak for themselves with their low energy consumption and efficient use of resources. Allma and Volkmann machines excel with their high cost-effectiveness, which is achieved through faster production speeds, a reduction in the outlay for investment and air conditioning and low operating and maintenance expenditure.
Setting benchmarks – CompactTwister with E³ technology
In the CompactTwister, the Company presents their high-performance twisting machine for staple fibre yarns with E3 technology, which impresses with its triple added value through the factors of energy, economics and ergonomics. It is possible to achieve savings in energy of up to 40% thanks to the eco drive concept and the eco spindle technology with adjusted spindle combinations. Productivity of the CompactTwister is 30% higher thanks to faster delivery speeds of up to 120 m/min. Operating costs are reduced on account of lower expenses for energy, floor space and maintenance. The ergonomic benefits of the CompactTwister are better operating convenience due to improved winding geometry, central adjustments and handling aids as well as a reduction of about 50% in noise emission. The CompactTwister covers all number ranges and, due to high yarn and bobbin quality, provides optimum conditions for the utmost in added value, both today and tomorrow.
CableCorder CC4 – Twist & Save with E³ technology
With its pioneering technology, the CableCorder CC4 cabling twister provides energy savings of up to 50% in the tyre cord cabling process. As energy costs constitute by far the greatest block of expenses in the overall cabling process, these savings represent a revolutionary cut in production costs for producers of tyre cord. Cutting energy consumption also reduces the heat load in the production facilities, which in turn leads to a reduction in the costs for air conditioning. Greater cost effectiveness is further improved by 50% less thread breakage, better quality and high machine efficiency. The added value for machine operators comes from a decrease in noise emission in the workshop and shorter operating times due to simple handling of the machine.
Embroidery – Textile creations for the future.
Saurer Embroidery presents the innovations at ITMA Asia in Shanghai
Saurer Embroidery is the global market leader for embroidery production systems. It represents the accumulated experience of many generations combined with today's knowledge and skills to benefit the future of textile production. Our brand embodies textile manufacturing tradition combined with state-of-the-art technology to deliver a symbiosis of knowledge and skills, quality and reliability.
Epoca 6 pro – the successful embroidery machine
Epoca 6pro opens new dimensions with regard to adjustability and performance. A machine which is custom tailored for an era where orders are getting smaller and smaller but the demands and requirements are growing continuously. In addition, the orders need to be produced with fewer personnel and in a considerably shorter time. With the Epoca 6 pro, we have a product which fulfils those requirements.
The new concepts for drives, configuration and thread-cut guarantee maximum productivity and absolute reliability. The average production speed for the Epoca 6 pro is up to 30% higher, while retaining absolute reliability and top quality for embroidery. The unique options for adjusting the machine set the benchmarks in shuttle embroidery. The innovative, rapid thread-cut, which is fitted with the new individual actuation and secure thread trap system, results in minimum yarn waste. This means that the most complex patterns can be produced economically with extremely different yarns.
SoutacheHead – the new Saurer soutache system with application heads
You can embroider one-of-a-kind patterns using the innovative soutache head and keep the areas being embroidered conveniently in view while maintaining full flexibility. The motor-driven application heads mean that you can achieve production speeds of up to 500 rpm It is easy for users to position and gain access to the heads, with the results that downtimes during production and retooling are drastically reduced. The multifunctional soutache wheel allows the most diverse materials to be processed: from the finest soutache cord, a huge variety of braid widths, right through to technical yarns.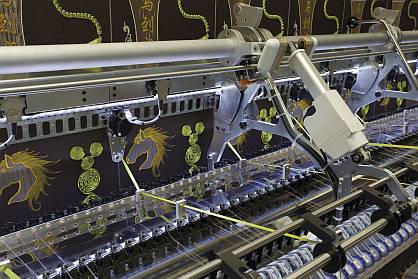 Pic:The new Saurer SoutacheHead
EmStudio – embroidery software – new with iSed
EmStudio integrates each stage, from drawing, punching and visualisation to optimising production and analysing operational data and archiving designs on one platform. You will find optimising production and quality simple and efficient with the new iSed – the intelligent Saurer editor. iSed has been reprogrammed from start to finish and now offers every modern option for operation, right through to multitouch. iSed is especially easy and effective to operate, achieving significant improvements in efficiency when editing.
Components, only better!
As market leaders are Saurer Components brands a byword for q high-quality, reliable components. Experts all over the world be it in the filament industry or in staple fibre spinning mills favour Saurer Components products and solutions. At this year's ITMA & CAITME are Saurer Components represented through innovations, but also by proven products. The team at site is looking forward to present you, Saurer Components comprehensive range aligned on the customers need for the production of high quality yarn.
Solutions for ring spinning as well filament spinning and processing, quality monitoring are this year's focus. To name some well-established highlights presented on the Saurer booth; the world's most versatile Texparts® PK 2630 SE and the Texparts® PK 2630 SHE weighting arms designed to fit on all on the market available spinning frames. Accotex® Cots and Aprons vital supplementary elements on drafting systems, whereof Accotex® J-460 stands as one example for process adapted polymeric solutions.
The Heberlein® TexJet-ATY range, the breakthrough in matters of cleaning cycle extension in ATY production. Customer's first choice in high speed but still energy-efficient and quality controlled DTY production; Temco® PU Discs, Temco® Nip Roller Units and Fibrevision® Unitens monitoring system.
Saurer Daytex expertise in sanforisation will be represented in hall N5, booth D11. Daytex® Shrinkage belts meet customers demand for gentle material treatment by seamless design and lacking of sharp edges for an extended belt service life.
Saurer Jintan
At ITMA ASIA + CITME 2014, Saurer Pre-Spinning business unit Saurer Jintan will be presenting for the first time the new JSC326 carding machine with up to 50% productivity increase.
Carding area has been increased with 60% comparing to the traditional machine thanks to a wider and raised cylinder. This results in an increase of the output by 50% under the same carding conditions. A new type of length and short auto-levelling (auto-adapting adjusting) will ensure constant sliver output with easy weight adjustment. The independent frequency converting transmission has now a removable cover plate, which allows easy speed setting and gives technological flexibility. Consequent feeding; carding length can be adapted to different fibre lengths and causes less damage to fibre.
The length of the licker-in waste collecting area outside the machine can now be easily adjusted. Synchronous belt with removable cover plate made out of high accuracy extrusion aluminium alloy, is easy to disassemble. Ergonomics has also been improved with easy operation icon interface.
Kindly visit the Saurer booth to find out more.
Related News
Latest News ITMA-Asia + CITME-2014
More News from Saurer AG

Latest News