Dyeing, Drying, Finishing
2014-06-11
Xetma run a successful exhibit at TTNA 2014 in Atlanta
At this year's TechTextil Atlanta, Xetma Vollenweider presented the latest innovations in the field of raising, shearing, emerizing and brushing as well as carpet finishing.
In the field of carpet finishing, Xetma offered further information about their new carpet pile cleaning machine X-TRACT XCP for acrylic, viscose and woolen carpets and the special machine X-CEED XG, which gives a unique shine to the surface of carpets made of acrylic, viscose or other synthetic fibers.
Furthermore, Xetma would like to announce that, effective 2014, Xetma Vollenweider acquired the product range of Hämmerle, an Austrian manufacturer of float cutting machines. Now Xetma offers the entire range of warp and weft float cutting machines as well as cutting machines for jump stitches in embroidery fabrics.
The newly developed warp thread cutting machine is equipped with two opposite and synchronized chains with specially designed knives. Thanks to this innovative design, all threads of embroidery and warp floats of woven or knitted fabrics are cut reliably.
A modern drive system, as well as a state-of-the-art fabric tension control system, allow for an optimal fabric run. Furthermore, the menu-guided color touch screen is easy to operate and can be handled by any user within shortest time.
Xetma will be presenting all of these exciting innovations at ITMA ASIA 2014 in Shanghai, China (Hall E06, Booth D08).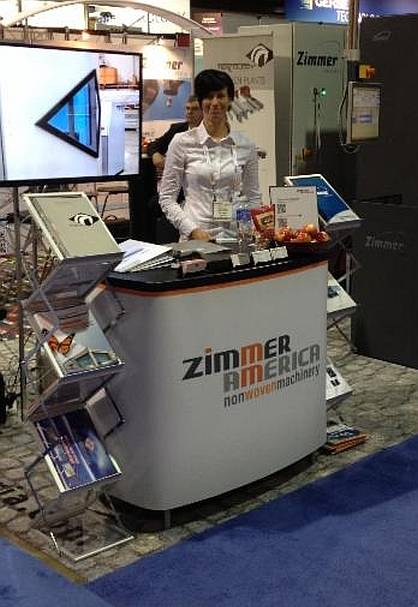 Pic: Xetma's Sales Manager, Kathrin Lang, operates the front podium at the booth. (c) 2014 Xetma
Related News
Latest News Dyeing, Drying, Finishing
More News from Xetma Vollenweider AG

Latest News