Dyeing, Drying, Finishing
2014-01-08
The new generation of machine control:THEN DYNET PLUS
WLAN connection to the mobile device with the new DYNET PLUS generation
Since 2002 the DYNET controllers as part of the successful TDS (THEN Dyehouse System) are helping to provide the right data at the required place and time to make decisions more safe and reliable. Meanwhile, nearly 1.000 units worldwide are serving 24/7 to make a dyehouse a more transparent place.
The new communication media opened new horizons for THEN. Today it is possible to involve new units into the established system like iPads or tablets. With the integration of these units into the dyehouse system the user also can make use of all the new features linked to the new technology.
As a consequence, maintenance and control of the machine can happen from home or wherever it may be necessary to check on the performance. Calibrating sensors with the iPad: it's child's play. Just walk around the machine with the device in your hands and check sensor after sensor. Operating a dyehouse has never been so easy due to the de-centralized and flexible access. On top of that the new system is based on a standard BOX-PC with LINUX operating system as controller- guarantor for reliability today and in the future.
It goes without saying that the new DYNET PLUS control system is compatible to the established DYNET system. All the existing dyeing-programs run by a DYNET controller can be transferred to the new system and vice versa. Same counts for the integration into existing machine Groups.
As part of the FONG'S group, THEN provides high quality solutions for dyehouses worldwide. The THEN AIRFLOW® system still today sets standards in terms of sustainable and economical dyeing and finishing, whereas the infrastructure with highly customized dyehouse management systems provides tailored solutions out of one hand to assist the customers with his daily duties.
FONG'S is the biggest manufacturer of wet finishing machines with production units in China and in Germany and includes the brands FONG'S, GOLLER, THEN and XORELLA.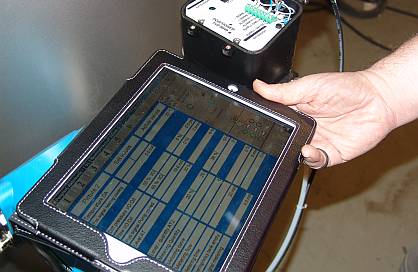 Pic: Operation panel in hand- wherever you go
Related News
Latest News Dyeing, Drying, Finishing
More News from FONG'S Europe GmbH

Latest News