Dyeing, Drying, Finishing
2013-09-11
Trendsetting technology. Worldwide. And at the K13.

Headquarters in Saal a.d. Donau is the hub of the company's worldwide operations. (c) 2013 Mahlo
The family-run company Mahlo + Co. KG, located in Germany (Saal/Donau), develops and produces since many decades high-tech measurement and process control equipment for the film, coating, converting and the textile industry. At the K 2013 the company welcomes it guests and displays the trend of automation and web process control at hall 10 / D52.
Mahlo offers the end-users technically up-to-date, economically viable, problem-resolving proposals for:
Process and quality control (sheet & film extrusion, weight, thickness, moisture, etc.)
Residual moisture control
Exhaust humidity control
Pattern and repeat measurement and control.
The products are designed to set new standards in quality assurance and process optimization. The goal is to work together with the customer to identify the most competitive and cost-effective production solutions. The ultimate purpose of this strategy is to maximize ROI and value-add by reducing the usage of energy, raw material and human resources while optimizing quality, equipment utilization and work flow. Mahlo has now added several new options which help customers achieve these aggressive goals.
Automation and Web Process Control: Qualiscan QMS-12
Reducing the usage of energy, raw material and human resources while optimizing quality, equipment utilization and work flow, nowadays is a precondition to keep the market position. The perfect tool for that is the Qualiscan QMS-12. The modular-structured system for measurement, control and logging of critical process variables, such as weight per unit area, coating weight, moisture, thickness, etc., covers the full working width of the product.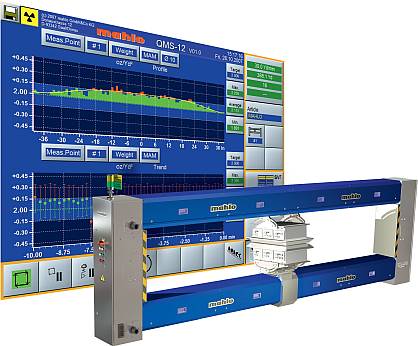 Pic:
Qualiscan QMS:Process control tool for finishing.
QMS systems are used principally for web applications like roll casting, sheet & film extrusion, extrusion coating, coextrusion, etc. and are applied amongst others to products like food packaging, flexible packaging, abrasives, adhesive tapes or automotive trim & films.
Non-nuclear weight measurement
The standard in basis weight measurement has always been measurement with beta gauges. In times of rising radiation protection requirements gradually more non-radioactive measurement techniques are establishing. Some new sensors for the Qualiscan QMS from Mahlo are available in that area.  
The Gravimat FMX-T is a low voltage X-ray sensor that measures the basis weight (or calculated thickness) of thin films, nonwovens, and other webs with ultra-fine resolution, accuracy and defect detection. The X-Ray energy below 5kv exempt from regulations.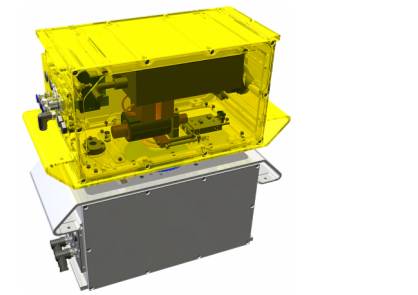 Pic: Gravimat FMX-T: Non-nuclear basis weight measurement
The Infrascope NIR monitors the absorption of infrared energy by components on or in the web in the near infrared region. By simultaneously analyzing the entire NIR Spectrum, the sensor is able to discriminate between multiple components in the web.
The Infrascope NIR-I sensor uses white light interference to measure precisely the layer thickness of mono layers and transparent coatings on film. By a special measuring procedure, both the layer thickness and the film thickness can be determined accurately on-line. 
Related News
Latest News Dyeing, Drying, Finishing
More News from Mahlo GmbH + Co. KG

Latest News