Denim
2017-04-20
Denim Première Vision 2017 April show
Denim Première Vision is celebrating its 10th anniversary in 2017. Nearly 20 sessions after its inception, the brand continues an evolution begun in 2016 with the Tomorrow is Calling campaign, and an entirely new programme. R-EVOLUTION, the theme of the April show, marks the arrival of a complete refresh.
This re-thought event engaged closely with the market, industry and brands to study, together with the community as a whole, the issues it faces today, to infuse the sector with new vitality and to create the denim of tomorrow.
For 48 hours, Masterclasses, the Hackathon, the Première Vintage Market, and never-before seen creations by 84 exhibitors will propel visitors and exhibitors alike to the heart of the sector's major technical and technological innovations, complete with an analysis of advantages and future potential in terms of product trends. They will unveil new sources of inspiration and new fashion directions.
For the first time ever, this truly stimulating, creative and inventive hub will showcase real-time denim development projects designed by students from the best fashion and technology schools. In addition, masterclasses will welcome renowned experts from other sectors, the better to encourage creative thinking and initiatives for tomorrow's denim players
>> P H Y G I T A L : A new fashion space
At the show's entrance, this immersive, interactive space designed by Denim Première Vision immerses visitors in autumn-winter 2018-19:

Original fashion worlds illustrated by the most creative new products from weavers, denim laundries, manufacturers and accessories makers.
The innovations, technologies and processes that are shaking up the world of denim
Emerging eco-responsible developments
>> The tech innovation scene
An area for new inspiration, dedicated to innovation and technology in service of creating new kinds of denim, corresponding to current needs and desires. Climatic performance and thermal activation, luminosity, augmented reality, robotics and connected technologies are all directions well worth exploring to dream up the denim of tomorrow. The ingenuity of Denim Première Vision exhibitors mingles with projects created by artists and start-ups to open up the field of possibilities. This space is accompanied by a visitors' circuit around the show, to further the experience at the initiators of these groundbreaking projects. 
>> Among the projects presented in this space
Issho (Netherlands): A denim jacket with technology integrated into the fabric that imparts the sensation of a loving caress on the wearer's shoulders. Pauline Van Dongen, Italdenim, Creative Industries Fund, Isabel Berentzen.
Solaar Windbraker (Netherlands): a waterproof blouson in recycled denim that integrates solar panels that can recharge any portable tech device and combines aesthetics, comfort and functionality. Pauline Van Dongen, Blue LOOP Originals.
Rochambeau Bright Bmbr (USA): a digital jacket equipped with chips and QR-codes granting its wearer access to exclusive content outlining a personalized itinerary. Rochambeau, Avery Dennison, Evrythng.
Spinali Design (France): jeans that integrate GPS technology to guide the wearer via directional vibrations.
My Rags (Italy): new software that makes it possible to conceive and visualize jeans from A to Z, in 3D. A digital platform bridging creative design and the supply-chain.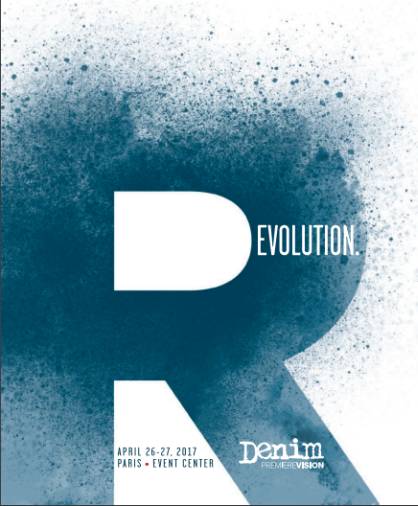 >> The itinerary through the show:
Desert Studio (United Arab Emirates) - Stand A14: a concept in which the consumer becomes the designer of the product and can have it made-tomeasure directly by the factory.
M&J Group (Bangladesh) – Stand D11: Software that makes it possible to precisely measure
water consumption during finishing. 
>> The denim trends area: season rising aw1819
A redesigned trend area, a combination of future, phygital merchandising and a contemporary art museum, an alternative and singular expression of the autumn winter 2018-19 denim fashion themes. 4 immersive universes present the fashion trends through a pared-down and assured selection of new products and specific developments from the Denim Première Vision exhibitors:

>> BOLD: Boldness in terms of both materials and shapes. Arrogant lines, impertinent and resolutely light volumes.
>> RECODE: Deviant geometry, cloudy dark and colourful profile. Turn a jacket inside out and closely consider cuffs and lapels.
>> BEYOND: Focus on what overextends and overflows. Form shapes softly.
>> RAINFALL: Asphalt runners in the rain. Sparking contrast, crunchiness, and glazed surfaces.
A simplified and immediate reading of the season's convictions. QR codes on each presented product can be flashed using the Denim Première Vision app, to download a photograph and specific information for each product, and thus personalize visits.
Specific, informative signage to promote eco-responsible and fashion developments.
Cleaner cottons teamed with bio-sourced synthetics, industrialized natural processes such as vegetable dyes, ever more innovative recycling, innovations in terms of environmental commitments, and better traceability thanks to blockchain Technology.
Related News
More News from TEXDATA International

Latest News